Season 2023-24 
December  – European Journey review
with the last match of the group stages being played, we reach the end of our journey in Europe this year

I was quite impressed with our run, particularly that fantastic demolition of Lokomotiv as well as two creditable draws which could have easily been wins if not for our lack of concentration in the last minutes of these matches
a third place finish and around half a million pounds in prize money for our results in the group are a great debut season for us in Europe. Our finances are the clear winner here:
June – CHAMPIONS!
well… it took us 8 hard fought years, but here we are
The tactical change at the start of the season (about which you can find more detail in the previous post), coupled with the impressive development of our new generation has brought a delightful and unexpected success to the club this year. Starting with a media prediction of 13th and with 750-1 odds to win the title, this has to be the most monumental achievement of the club to date.


 completely dominated the playoffs
Playoffs Table

Final League Table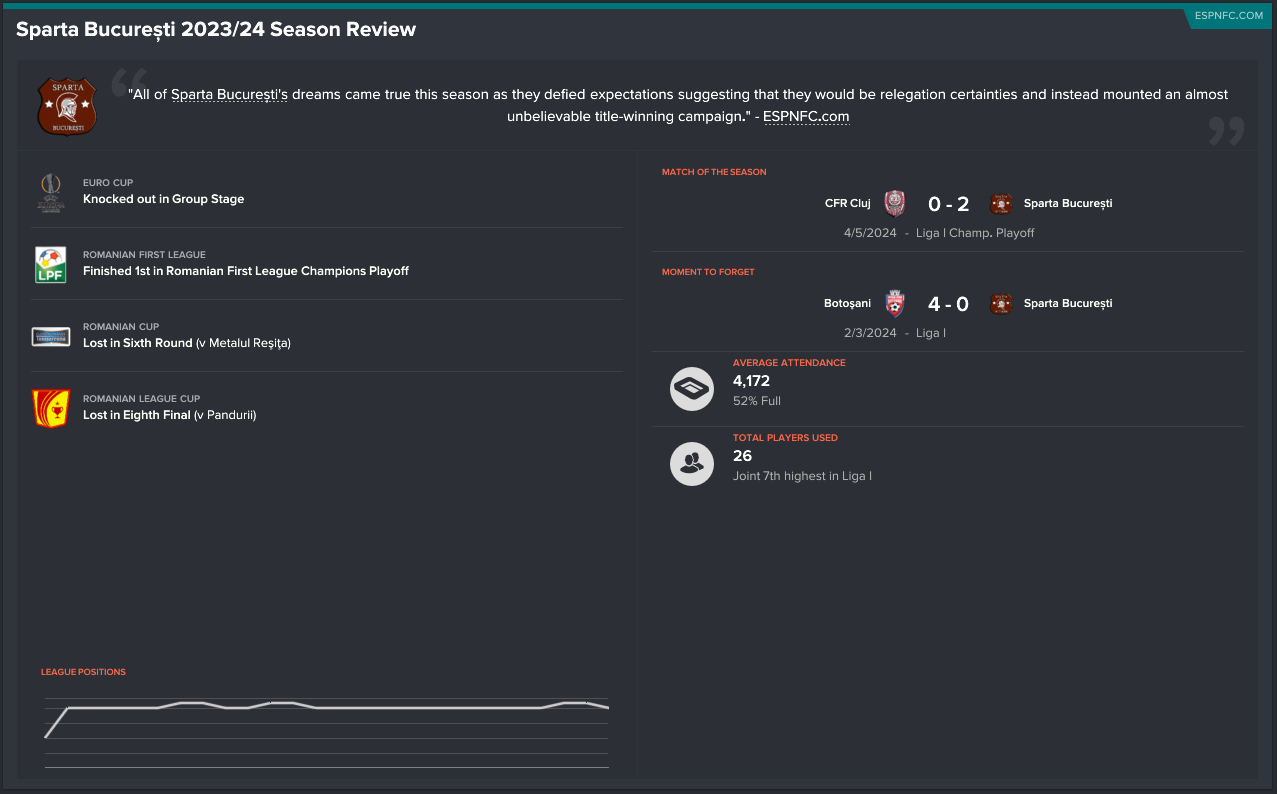 no words…. a wonderful season for this club
Squad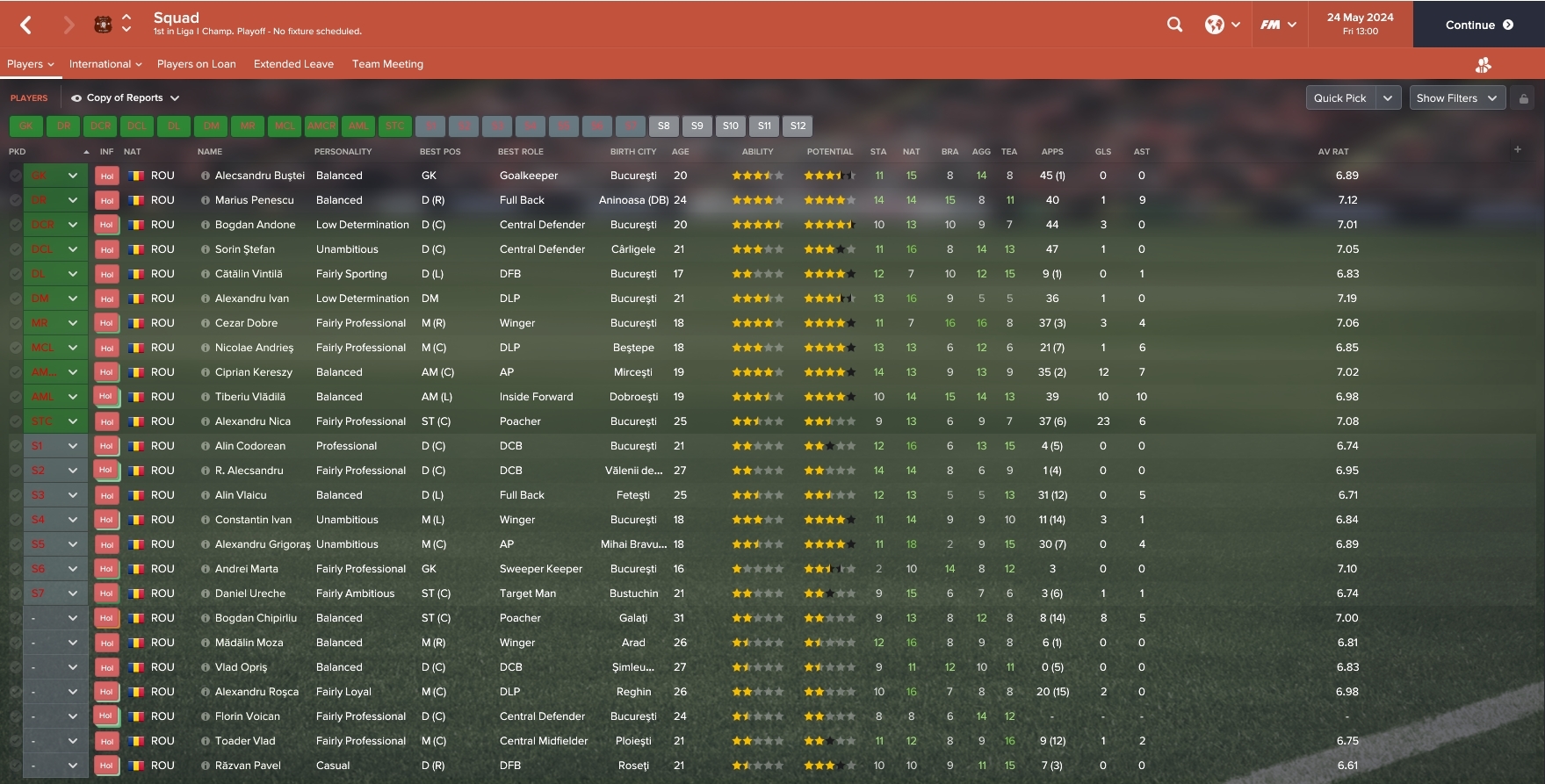 Awards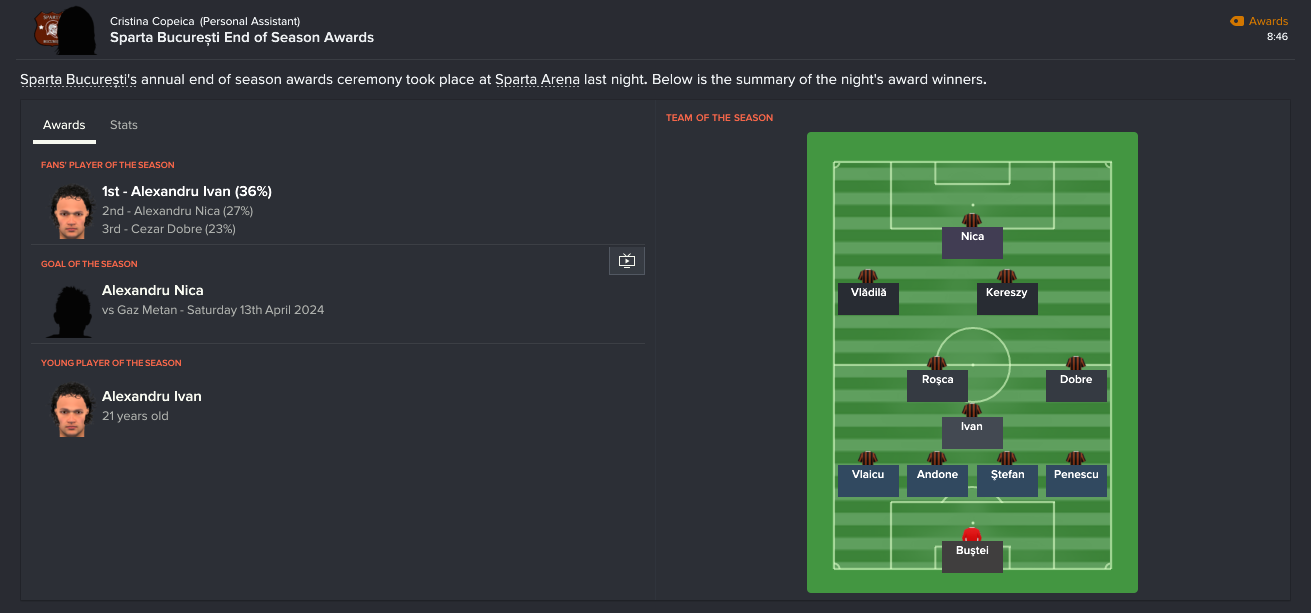 Key Players
Alexandru Ivan                                                                                                   
 Marius Penescu
Alexandru Nica                                                                                                        
Cezar Dobre
After changing his role from DLF to F9, Nica registered his best ever season for the club with some impressive goalscoring record under his belt. Our most in-form and consistent player this season and a joy to have around the squad with his attitude and personality. Ivan has really impressed this year with his powerful displays at DLP. 88% passing success ratio isn't a stat to be shy about either. Marius Penescu bombed the right flank with much more efficiency than in previous years thanks to the new system and his overall development. He's undoubtedly one of our strongest players at this point. Dobre has been named captain at the start of the season and boy, did he not disappoint: 40 appearances this season in which his contribution marked some incredibly reliable and consistent deliveries.
Notable Performers
Sorin Ștefan                                                                                                                       
Ciprian Kereszy
Bogdan Andone
Our ever-reliable defensive pair, Andone-Stefan, has put in another great series of performance to guarantee an unprecedented stability at the back for the team. Marshaled by Ivan just in front of them, the three form the defensive foundation of the team. A shame about their personalities and determination, but, hey one can't always have it all
  Kereszy developed well and put in some great performances this season, although his very promising development at the start of the season was disrupted by a 4 month(!!) spell on the sidelines after a horrific injury. Still managed 37 appearances which is a lot and everyone in the Sparta camps hopes he will manage to stay fit next season and realize his undoubted potential. 
Youth Prospects
Alexandru Grigoraș                                                                                               
 Nicolae Andrieș
Cătălin Vintilă
Last year's intake's stars, Grigoraș and Vintilă have been given plenty of game time this year due to our participation in a number of competitions. Both have greatly impressed and the future's looking bright at CM and LB for us. Andrieș has by far been the revelation of the season for us this year. His rapid development meant he quickly exceed the ability of any of our CM's and was granted a starting spot which he dignified with some greatly intelligent and technical performances. His emergence as a potential star player is the kind of story I love about youth development
 Part of the 2021 intake, he was given a fairly low rating at the time:
He really came out of nowhere, and I believe, in no small part due to his personality.
Youth Intake
we changed our HOYD just a few days before the intake and the decision instantly proves to be a success. Nicola's recruitment was a bit of a jaw-dropper for me, particularly because of his very un-orthodox stat distribution, personality and already great CA. Could be a very interesting type of CM for us in the future. A couple of good personalities overall and some great depth for midfield positions. What's starting to get worrying is that for 8 years now we haven't recruited any decent strikers via our intakes and that could be an issue, as Chipirliu is getting older and older and Nica remains our only viable starting striker.
Felix Nicola                                                                                                                       

Gabriel Ciocănaru

Club developments
the great improvement in the finance department this year meant this would be merely a formality

some great figures for attendance this year given our run in the Liga I and the Europa League and the overall massive step we've taken in reputation means we're now attracting some serious investments through sponsorship. Oh yes, and there's the small issue of Champions League next year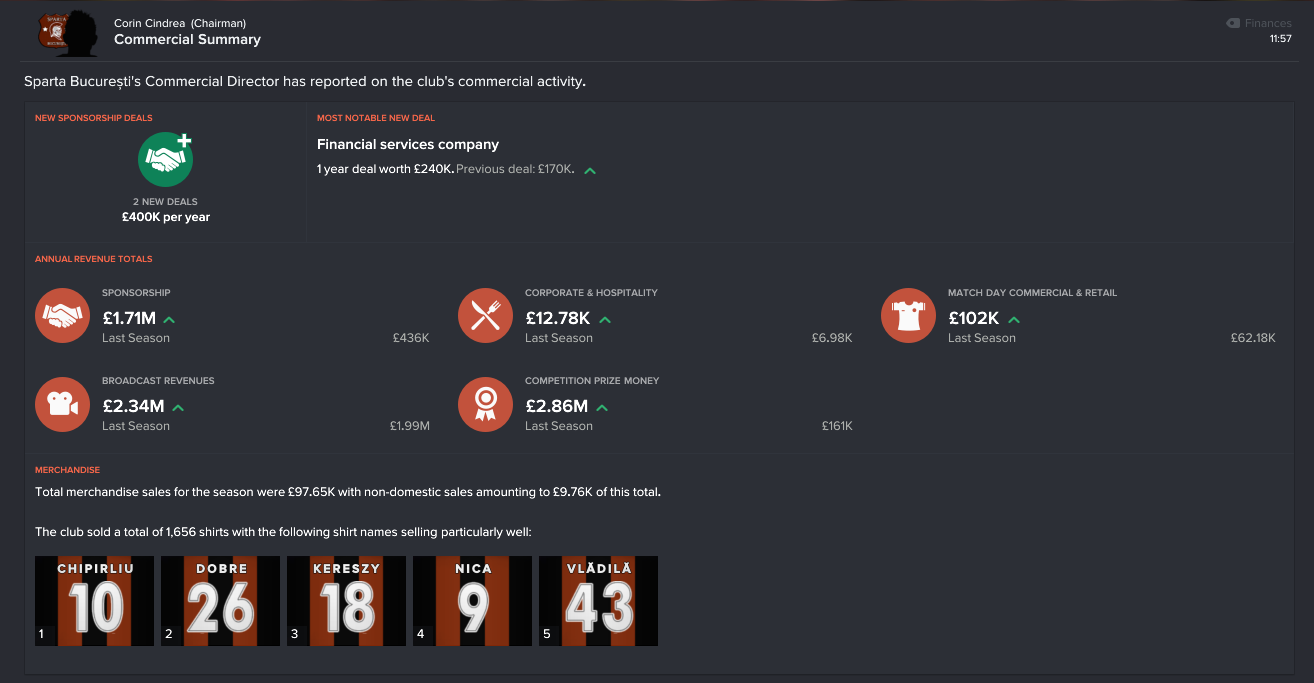 quite the jump

Tracker