the end of the current season marks the 10th anniversary of the club's existence, as we continue our Spartan journey towards glory 
25/26 Season review
Overall, a good season for us, marked by the great performance in the domestic cups as well as the good run in the Europa League. These are the performances that make it easier to swallow the disappointment of not having qualified for European football next year, however, considering the board's expectations of reaching the relegation group, our performance can still be classed as an over achievement.
Champions Playoff
Final League Table
Awards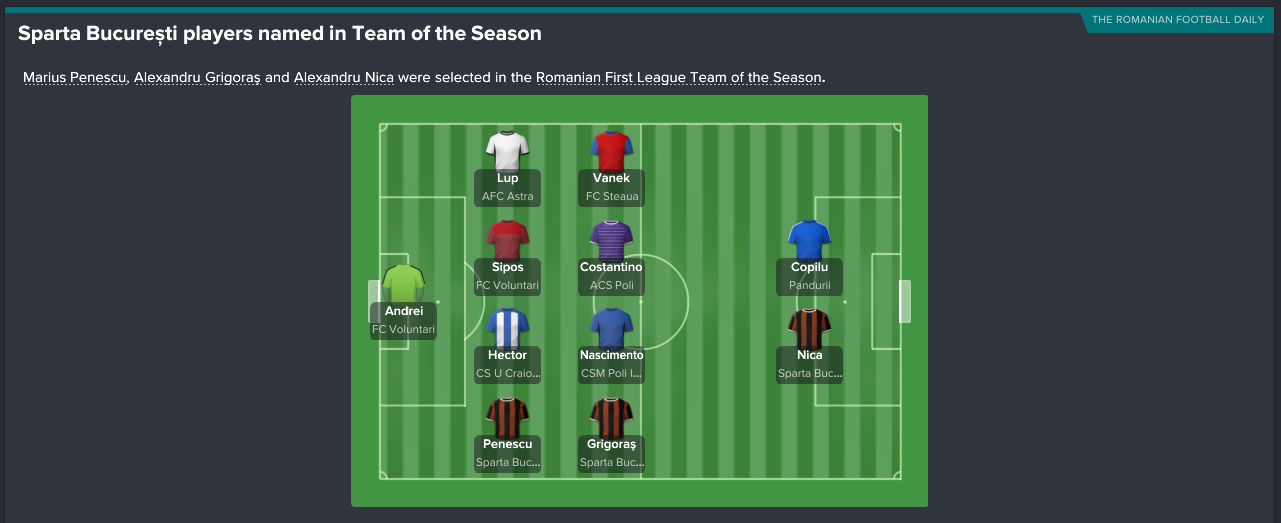 Squad
a few encouraging points in this year's squad development, as we gain an increasingly professional/balanced squad due to the influence those personalities have had on players which previously had low determination or unambitious personalities. The best example is Alexandru Ivan in that sense. Other developments worth noting are the overall quality jump we've made over the last few years, as players like Sorin Stefan and Toader Vlad seem to be no longer good enough for our first team options. This means we're moving in the right direction and that the players we're getting through the intakes are increasingly better.  
Key Players
Alexandru Nica                                                                                                    
Alexandru Grigoraș
Alexandru Ivan                                                                                                     
Marius Penescu
Nica has had an absolute killer of a season as he's had his role changed from F9 to Defensive Forward in a bid to change the dynamics of the system at the start of the season. One goal short of breaking the Liga I goalscoring record and top scorer in both domestic cup competitions as well as the Liga I, this was truly a fantastic performance from our legendary striker. Grigoraș was instrumental for us this year, as he covered for both, RM and CM positions and if not for his unambitious personality, I feel he could have developed even better to this stage. Hopefully the increasingly professional attitude of the squad influences him in that sense, as we already have a player that showed a change in personality (from low determination to fairly professional) this year in Alexandru Ivan. Our slightly technical rock in front of a defense has performed consistently for yet another season and is by all means a key player for us. Penescu is the best fullback in our ranks and has been given the duty to bomb forward as much as possible due to his strength in the physical side of the game. Great performances in that sense, as he's one of our older players that is cementing his status as a club legend by this point.
Youth Prospects

Tudorel Benga                                                                                                         
Cristian Dumitrescu
Cornel Marin                                                                                                                     
Milaș Ioniță II
The new generation of players that made its entrance in the first team boasts some great talents that have already cemented at least a rotation status in the team. Benga seems to be the natural heir to our best AML – Tiberiu Vladila, however he is slightly different in his style of play, boasting better physical and technical attributes, as well as being left-footed. Highly impressive in his first appearances for the club, he will be given increasing game time as he develops further. Dumitrescu and Ioniță II have been the youth revelations of the season so far, as they were moved to rotation option and first team choice for the CB spots due to the low overall quality of the senior players in that position. The latter stole the show this year with his incredibly fast improvement and is the club's best defender and brightest prospect at this point, having already exceeded our previous best defender, Bogdan Andone, in terms of quality and performances. Cornel Marin is yet another talented right back who has it all to steal Penescu's first team spot in a few years time if he keeps developing as well as he did this season. Great all-rounded player and good personality as well.
Youth Intake
 

A good intake, however a bit low by the standard set in the past few years. The encouraging points are the good personalities of the top players as well as having finally recruited a striker with decent CA/PA after 9 years of no decent enough options in that department. Here are this year's intake stars:
Alin Drăghia                                                                                                                   

Răzvan Lazăr

Florin Stuparu

Club Developments
we get another set of upgrades, albeit at the cost of a fairly large outlay
a slight decrease in the income figures due to failing to qualify for European football as well as achieving a lower position in the table this year
Over the last ten years we have developed from a club that had just won promotion from the 3rd division to one of the most respectable sides in Romania
Finances
some very healthy figures here due to our abstinence on the transfer market. I would still prefer if all this money allocated for the transfer budget would be spent elsewhere
Reputation
domestic
european
Facilities
Trophy Cabinet
 
League History
Squad Overview
goalkeepers
defenders
midfielders
strikers
Squad vs League average stats
a review that shows we're very strong in midfield as per positional departments, physically and mentally as a squad overall and with some reasonable technical know-how all round. This alligns perfectly with our philosophy of youth, athleticism and discipline
all positions                                                                                                                 
 goalkeepers
defense                                                                                                                            
midfield
attack                                                                                                                               

physical
mental                                                                                                                      
technical
Players representing Romania at youth levels
a very healthy output from our youth conveyor. So far we don't have any players that play for the main team, but I believe we're not far from getting there
Tracker