Hello everyone and I hope you're enjoying this series thus far. You might be wondering why I change my approaches so often, as until now we've had very good success with most of the systems employed. This probably originates in my utter disregard to concepts like 'stick to what's working' and 'if it's going well, don't change it', when it comes to football management. The whole idea behind this series is to provide an illustration of the fact that being adaptable and flexible are some of the most important aspects of management. Given this is a youth-only save, the 'logistic' set-up provides the perfect scene for that, as we're unable to buy players and have to constantly look to adapt our tactics to players that come through the team through youth recruitment. Then again, it's an exercise in trying to prove that success can be achieved on a football pitch with different styles of football, and therefore a subtle dig to the moralists of these realms which advocate a 'right way' and 'wrong way' to play football. Before this starts looking like an ego-trip, I will conclude on this conceptual side of things and I'll get on with the real deal:
We've been sticking to our fancy, knee-twisting 4-1-2-2-1 for a few years now, and it has undoubtedly been one of the most successful and interesting as well as challenging systems I've developed in FM. Very tricky to get right when it comes to getting player movement/roles set up correctly, however I feel we've done more than a good enough job in the last 5 years using it. This is the final version of the system that won us 5 trophies in two years:
compared to the previous version (described in part three of this series) which used a SS(A) and a F9(S) instead of an AM(a) and DF(s), these changes happened for a number of reasons:
Kereszy needed to have more influence in midfield due to his great passing skills and lack of finishing/off the ball, thus a change to AM seemed perfect. Now what we lacked was that incisiveness in the final third I kept talking about. Changing the striker role from F9 to DF seemed to alter the height of our A-line, as the forward would come back really deep to defend, thus Kereszy(AM) would be positioned ahead of the forward in most of the counter-attacking situations. Given that both of them were still not close enough to the opposition goal to provide an effective threat, the D-line has been pushed up a notch. The defensive forward role was what got Nica, a club legend, however a third-rate striker by Liga I standards to score 44 goals in 55 appearances two years ago. He drops deep, roams from position and is everywhere on the pitch helping the team create extra pressure when chasing the ball. 
So yeah, all well and good, why change what works already?
 
While we were creating some beautiful attacking moves (i'll post a couple of gifs later) and pulling players out of position like mushrooms from a basket, we had a few defensive problems:
– the left flank was a massive problem, as I needed my IF to be on attack duty, and thus the fullback supporting him and defending the miles of space the IF leaves on the left wing. Now our best player in that position, Ivan, is actually incredibly bad at defending:
tackling – 7; positioning – 10;, marking – 11; bravery – 9
– the fullback role wasn't making him advance enough forward, while the wing-back role made him very (very!) irresponsible in defence, as well as having that crossing issue discussed earlier. Additionally, that gap on the left put a lot of pressure on the LCM who had to commit to the left a lot, leaving open space in the middle for the opposition to exploit
– as much as I loved watching the football we where playing, I had to accept the fact that our players might be good enough to pull off that kind of style in the league, where the opposition would be more or less of our level, however even there it was far from perfect. We made a lot of mistakes due to players not making the right runs, decisions, dwelling too much on the ball, and so on. These are issues related to the overall tactical and technical ability of the players and it was plain to see we were missing the quality to make it tick like it was supposed to tick.
– our increasing presence in European Football means we'll face, in most cases, opposition that is better than us… most of the times miles better. So we need a system that is articulated to that position and allows us to exploit the best out of our team with minimal chance for error. 
– one of the key players for this system, the WP is actually better suited for a Winger role due to his relatively poor passing(12) and much better crossing (14)
– we've had a number of exciting prospects at CM or DM positions come through the intakes in the last years and I want to exploit that
Pastures New
having re-analysed the squad, I noticed that most of our central midfielders have a really good physique and defensive skills whilst also being able to perform in the DM positions too. This means I can spread out the defensive responsibility a bit more, by providing further cover to our defensive line using my midfielders. Two of our strongest players (Vladila and Dobre) are wide players and they're most suited to the Winger role due to relatively poor physique, but good technical stats and speed. Additionally, we've improved a lot technically over the last few years and we have some really good overall stats for passing and decisions as a team, and especially in midfield.
So this is the new set-up
– stay narrower as a team and relatively deep to form a compact block of players defending and looking to quickly transition to attack when getting the ball back. The fluid team shape helps us in both scenarios
– Wide players are positioned fairly narrow when defending to help the team challenge for possession in midfield if needed,  but run wide when attacking
– the DM's get further forward when the team is in posession or attacking transition, especially the right DM who has PI to 'get further forward'. The player in that position (Nicola) has very good stats for speed, as he will have to act as a defensive minded box-to-box midfielder in this system
– Kereszy's creative ability is exploited to its' maximum in this system as he is the central focus of the attacks. Dropping in holes, dictating play, making decisive passes, as well as getting into the final third, he really is the key player of this system.
– the focus of the attacks will look to alternate between channeling play centrally via our playmakers or exploiting the pace and technical ability of the wide players, depending on the situation of play
– the CWB's are the initial experimental idea for the full-back role, as both the FB and WB role configuration and how they made my players move have really disappointed me so far. Given the additional protection we get via the DM's we can afford our players in that position to venture forward a bit more and contribute to the midfield too when in possession or attacking
– simplified player movement and roles, allow for a reduction in the number of mistakes that over-specialization and too much reliance on complex player duties has brought before. Stay disciplined as a team and look for space to pass into with a calm, normal tempo.
typical transitions
defensive phase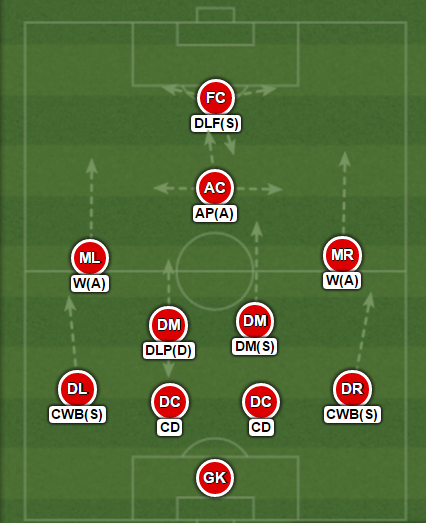 attacking phase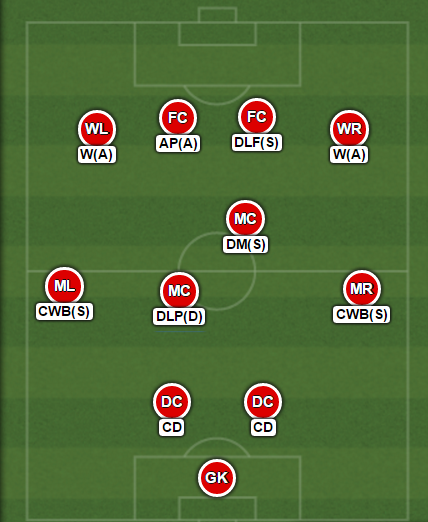 example of narrow, compact shape when defending:
10 men behind the ball and the AP getting involved in challenging the opposition for possession
example of team being spread out in attacking situation:
notice the RW and LW making wide runs and the DM(S) steps un midfield to help the team create pressure in the opposition half

The result? 🙂 yet another season marked by our complete domestic domination and a very good showing in the CL group stage.