Back to back to back? Surely threesome sounds better…Not that I'd be very far from the more literal interpretations of that given my half-shaved beard and weird accent started attracting way more attention than I thought it would from the overwhelmed feminine set of supporters. And yet as inexperienced in those matters I believe myself to be, that's hardly the most exciting thing that's going on right now. We've done it!

Three years from starting as a no-name club with an already posh and pretentious breath of ambition and with the Medicis behind us, we've proven everyone wrong and shown that young talent and attention to detail can serve a deadly mix of efficiency and ruthlessness.
And to have achieve all that being dubbed as relegation candidate, as well as having not spent a single Euro on wages is surely a reason for personal pride and well…the president's ultimate delight. We're now valued at 420k as a club, so he's surely over the moon with that.

As pledged under the club's policy, all the players signed were of Italian nationality and under 21 years of age. We didn't manage to steal any particular stars, however our selection included a couple of interesting talents for this level:
Simone De Angelis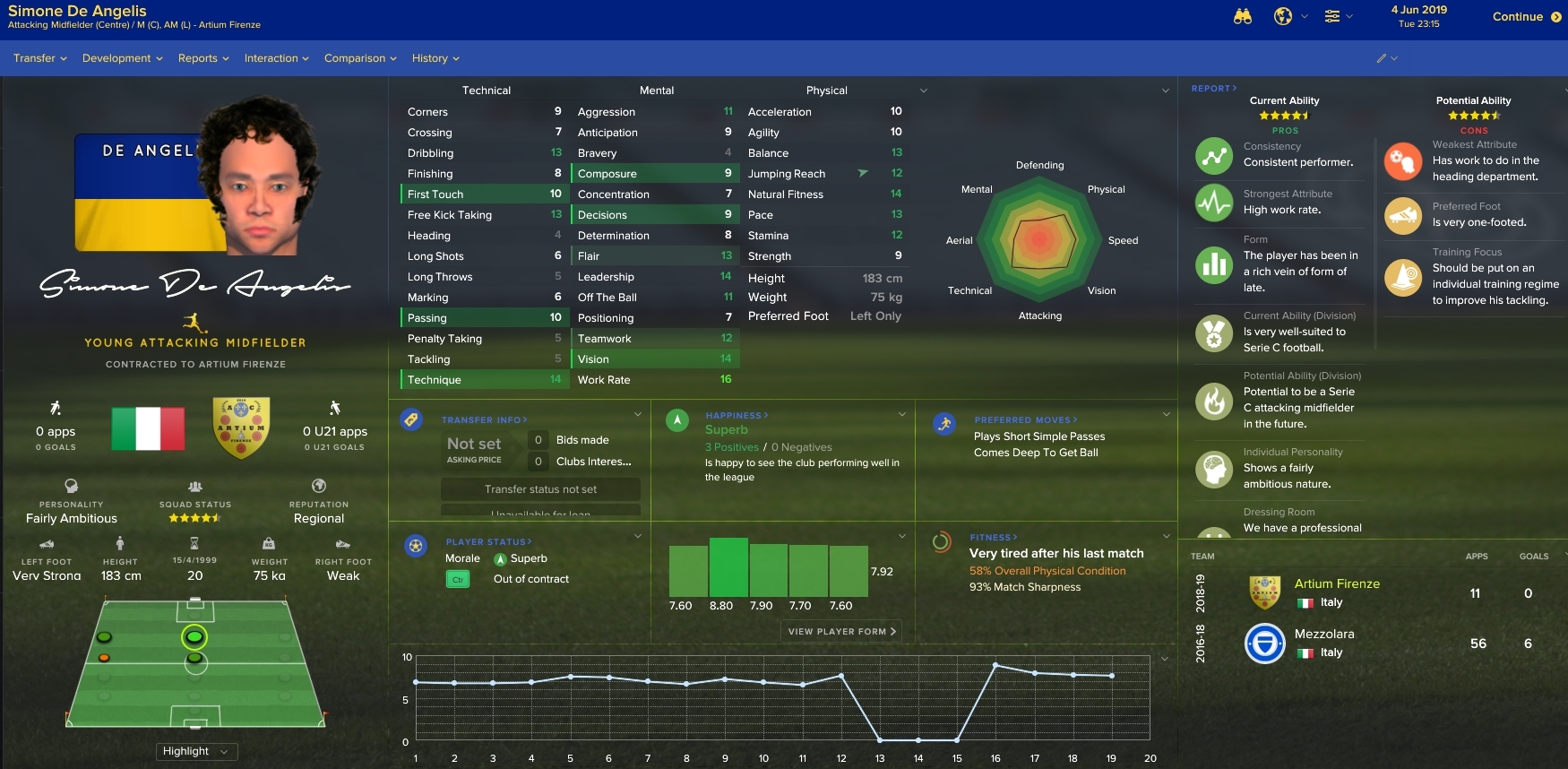 Rodrik Acquaviva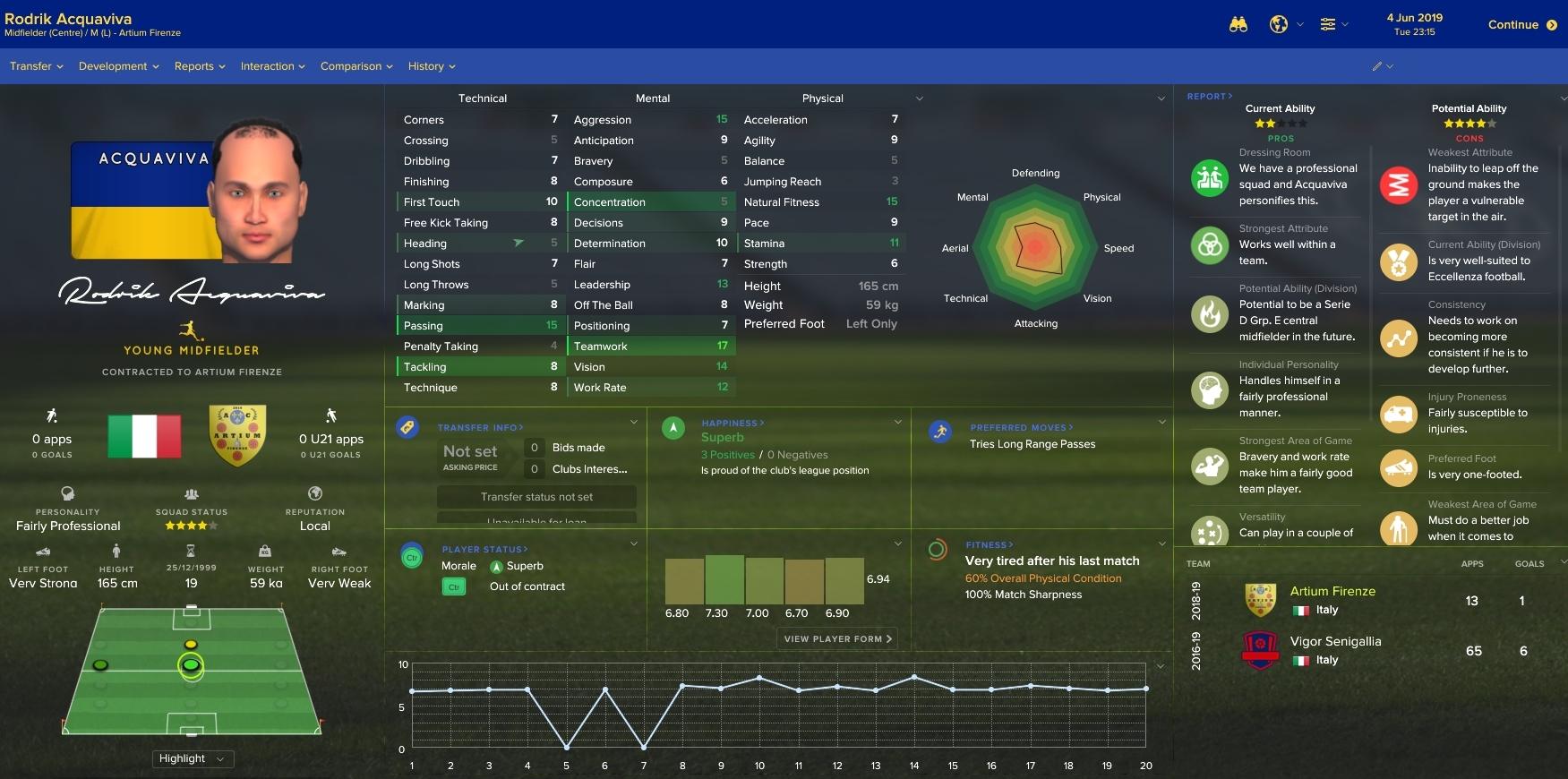 Lorenzo Pezzi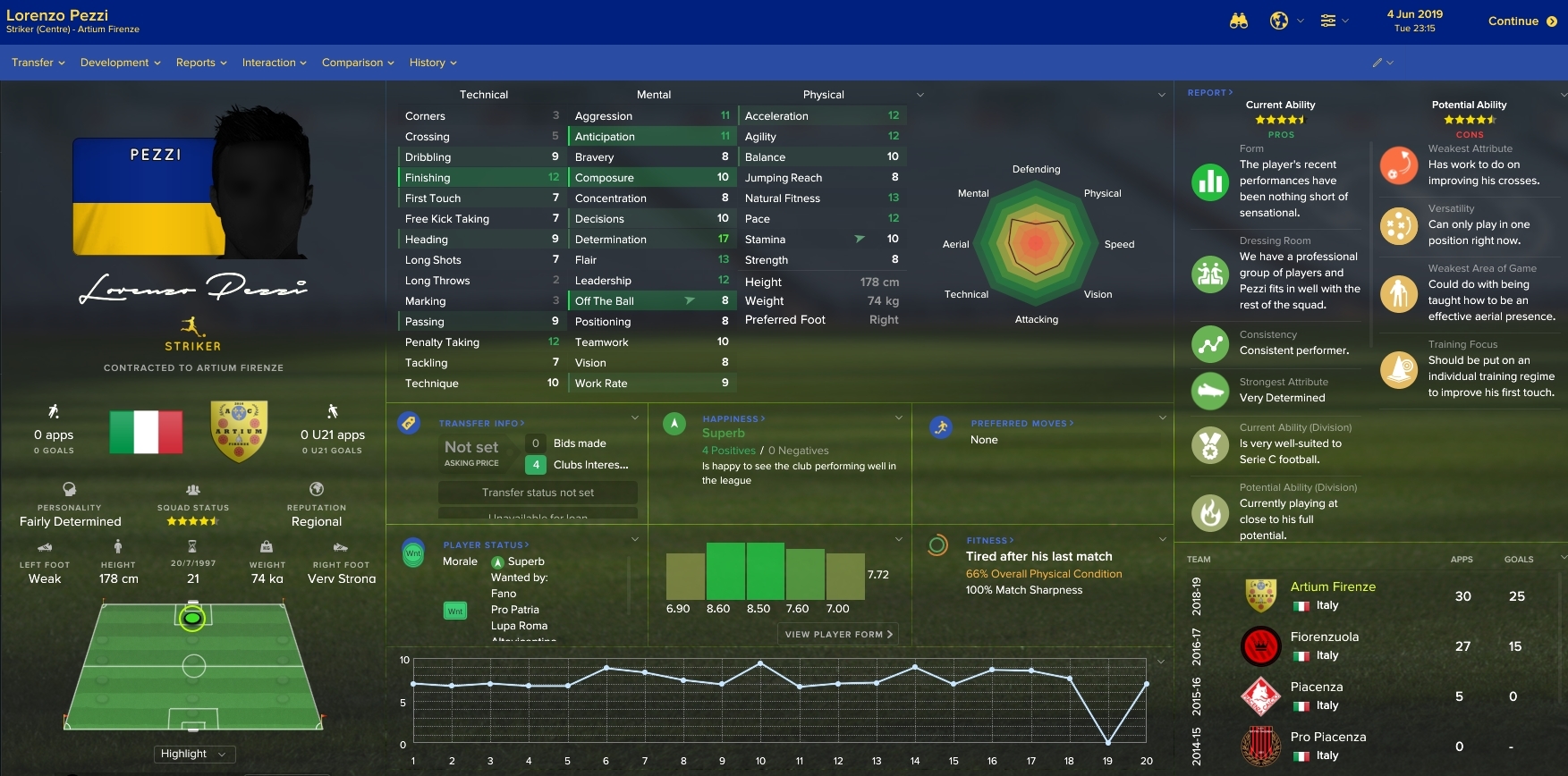 All three of them key players for us, and it's more than likely we won't be able to keep them at the club due to interest from higher leagues…
My twisting and turning of the 4-4-2 has led us to some unbelievable runs in the league, which ultimately ended with us finishing as the highest scoring team in the division, as well as the second best defensively…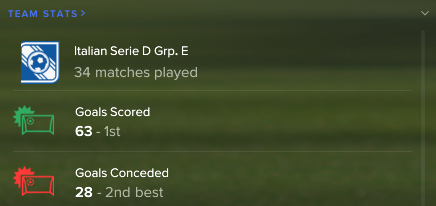 The stars of the show have been our two strongest players, the two boys upfront, out of which our captain, Mariani – a club legend already, has been absolutely sensational: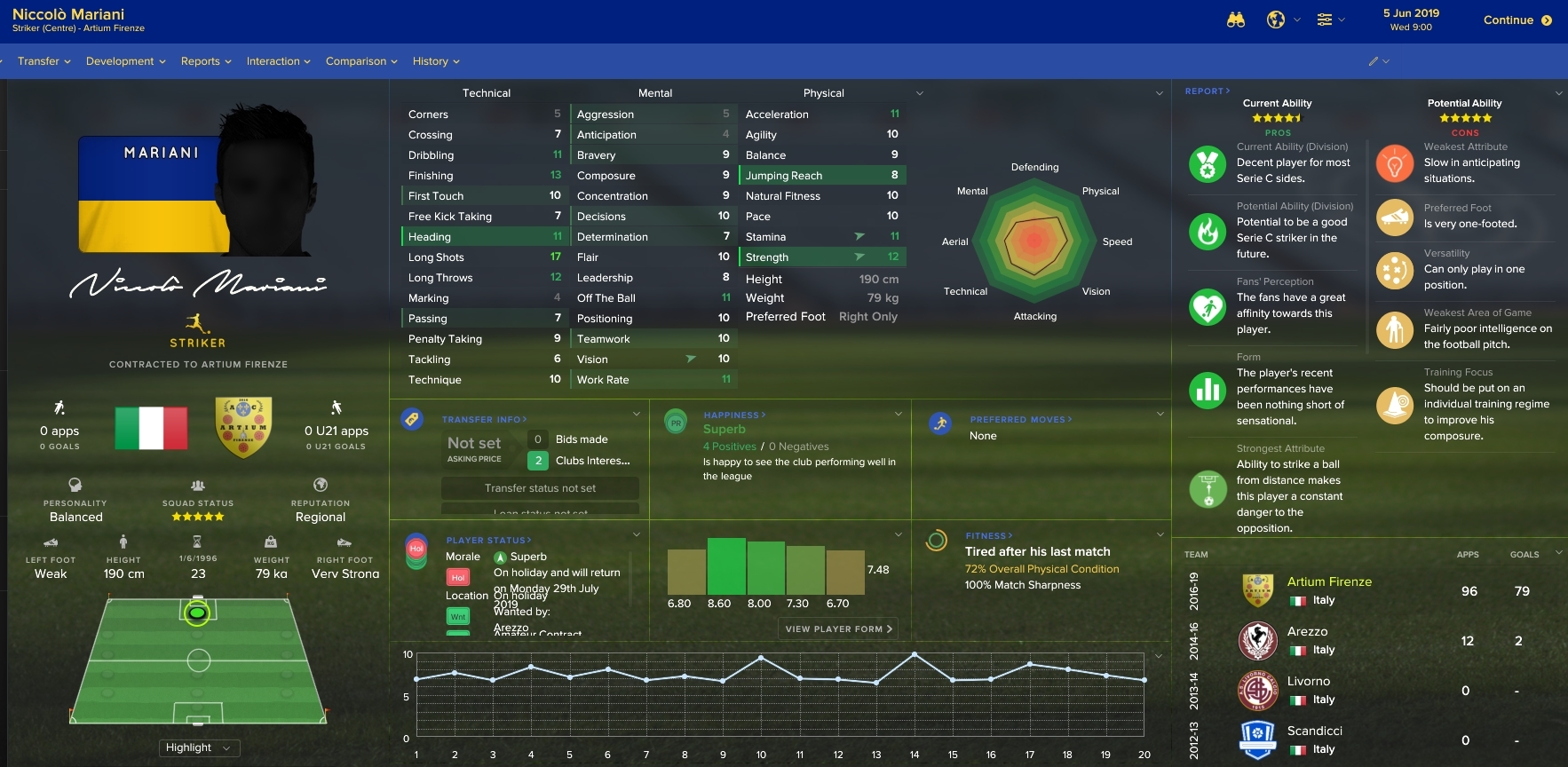 79 goals in 96 league appearances is an incredible record for a player who is still on an amateur contract, much like the rest of the squad. Worryingly, we are unable to match his wage demands to renew the deal, and I fear we will lose him to what is already a queue of suitors in the Serie C. 
As I ponder potential anti-depressants in case that happens, this tiny message pops up in the inbox to cheer me up:

This is absolutely fantastic news…As outlined in the club strategy, the short term vision for the club was to bring it to a position of stability and be able to keep our players under contract so that we can have control over the players we build our squad on. In that sense, turning professional is a massive step forward and it came much much quicker than I expected, however we're still nowhere near any Serie C club in terms of our wage budget and we'll struggle getting our own players to sign any contracts. An understandable issue, given that the club's finances are simply struggling to keep up with our meteoric rise through the footballing standards. Surely a problem everyone would like to have? 🙂 
Tactically speaking, our tried and trusted 4-4-2 has not changed much. What did win us a huge amount of matches, however, was paying close attention to what happens in match and using the d-line and mentality to either increase or decrease risk. We'd usually start with the following set-up: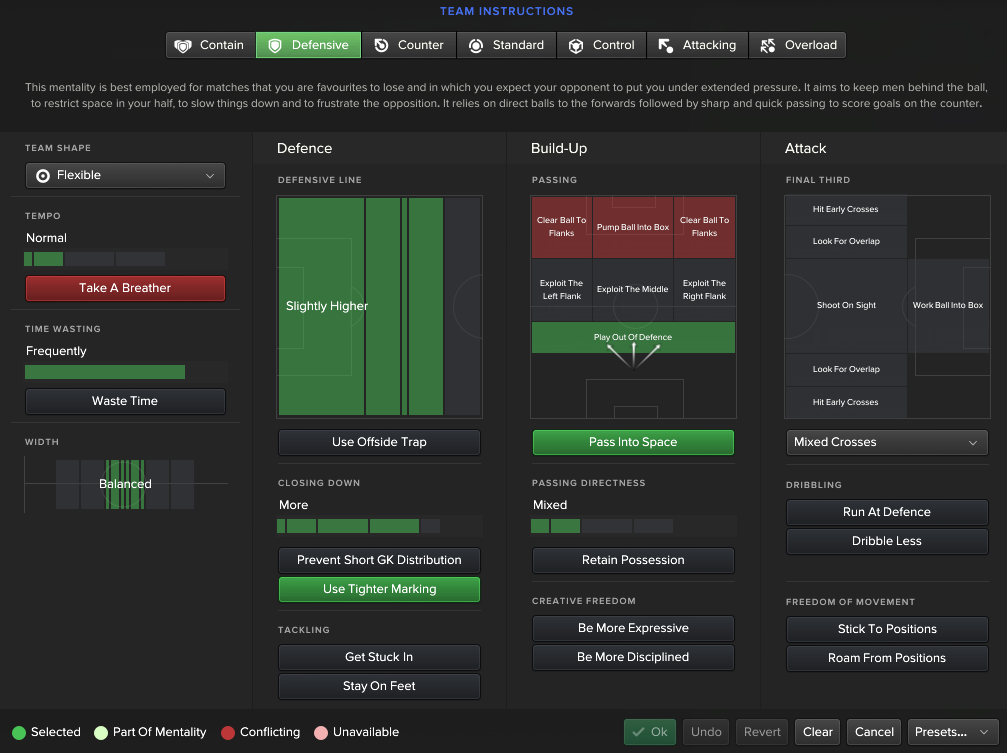 And then, depending on the situation on the pitch we would adjust and sit deeper/playing it safer or pushing higher up with more freedom for risk. So far it has worked miracles for us and we are truly…. going places!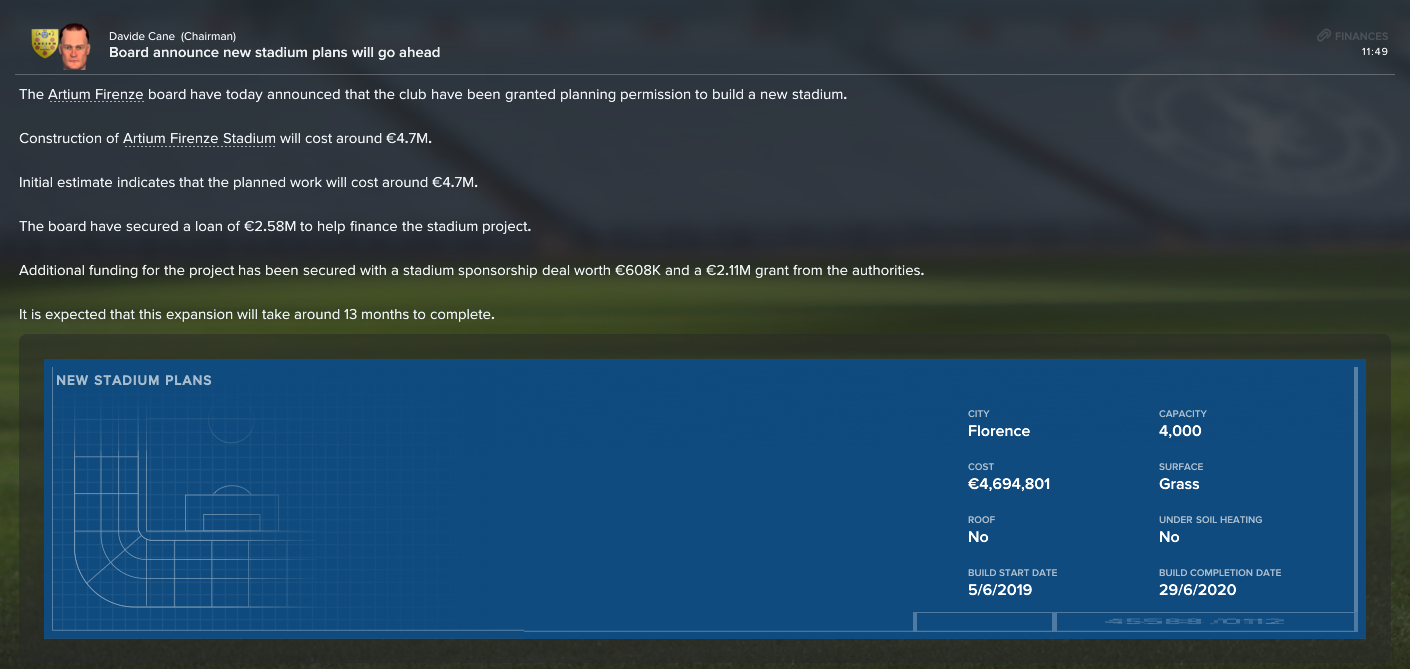 It seems that all of our profits are going into this, and I'm not particularly happy that it comes at the cost of us getting improved facilities or coaching budgets, however there's little say I have on the matter…

From now on only results, attendance and sponsorship will see our finances go up and that's what we'll focus on. Our squad will most likely be weakened due to the imminent departure of our young stars so I have to test my hand in the free U21 Italian market yet again… Given we have an absolutely minimal allowance on our wage budget, we're basically still operating as we did last season – looking for players who are willing to sign on amateur contracts. Staying up in the Serie C with that kind of set-up will be our toughest challenge yet, especially when the league features clubs like Parma, Siena, Padova, Ascoli… all giants compared to us, and that's reflected on the Media Prediction odds for this season:

So here we are, at this turning point for the club – moments to savour, to be proud of, and yet… everything we've done so far will be played on the craziest roulette we've ever bet on. I'm still yet to learn how to say this in Italian but…roll that bloody dice!