Hi everyone, this is a piece I wrote detailing the squad&club achievements at the end of our 15th season with Sparta Bucharest. It's a detailed tribute to a Football Manager youth challenge that turned out to be much more than a simple FM career….
As the season draws to a close, Florin Avram and the club reach a new milestone. 15 years of youth, discipline and athleticism, 15 years of trophies, defying odds and reaching some of the sweetest as well as some of the most painful moments there are to be felt in football.

So far this has been a unique journey that saw us lift a newly founded club from the bottom of the second Romanian League to domestic dominance as well as the very top of European Football by reaching the semi-final and final of the Champions League in two consecutive years. And all this relying strictly on players coming from the youth academy… Romania has never been a consistent producer of world-class talent, and we weren't lucky enough to get any Hagis or Petrescus through our youth ranks, yet we managed to achieve success through a formula that entails three things in particular:
1) squad unity, home grown talent and and a defined DNA and playing style 
2) a clear club strategy with good infrastructure to support it
3) tactical flexibility and and adaptability
The recipe helped us build a squad with distinctive characteristics which favor a specific playing style based on fitness, aggression, work-rate and decision making. For the full details of the tactics I employed throughout this save check the 'Tactical Identity Journey' page of this website, where I go through the reasoning and thought behind each system.
Trophy Cabinet

a return of 20 trophies in 15 years of the club's existence is a motive for pride and prestige
Season Performance
Awards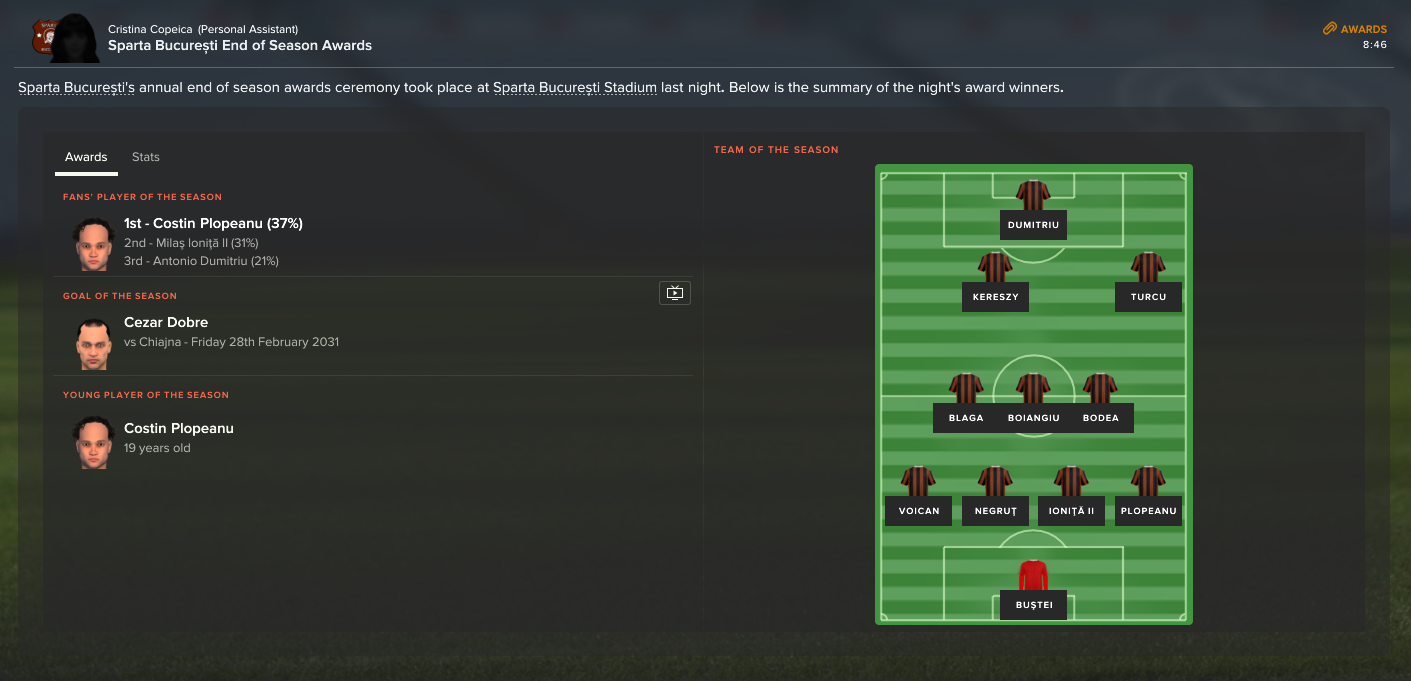 Squad
Players
Goalkeepers
Alecsandru Buștei (career)
Andrei Marta (career)
Ștefan Tudor (career)
Defenders
Costin Plopeanu (career)

Milaș Ioniță II (career)
Bogdan Andone (career)
Romeo Voican (career)
Alin Condurache (career)

Constantin Ivan (career)
Cristian Dumitrescu (career)
Cornel Marin (career)
Alexandru Negruț (career)
Adrian Țapu (career)
Midfielders
Alexandru Bodea (career)
Angelo Boiangiu (career)
Tiberiu Poșircă (career)
Cătălin Turcu (career)
Ciprian Kereszy (career)
Ionuț Ciurea (career)

Alexandru Grigoraș (career)
Marian Blaga (career)
Tiberiu Vlădilă (career)
Strikers
Antonio Dumitriu (career)

Florin Stuparu (career)
Ion Preoteasa (career)
Over the last 15 seasons we've managed to develop a few great talents, particularly our 2-time Golden Boy winner, Catalin Turcu and our defensive rock – Milas Ionita II. In fact, we have 8 players called up for Romanian NT for the up-coming Euro Qualifiers:
 Speaking of Romania, and our local input, one of the goals of this save was to contribute as much as possible to the rise of the local league, as well as the national team's rankings. 
This season is particularly special in that sense, and I have to express my sincere astonishment at the rise of the Romanian Liga I in the European Rankings table. If you check my tracker you'll see this is a league that seemed destined to drifting between the 14th and 19th positions. We are now considered to be a better league than the Eredivisie, and are only a couple of spots away from giant competitions like Serie A and the Bundesliga! To have reached this position is truly amazing, and in no small part thanks to our success on the European football stage:
Youth Intake

this year features a decent intake, marked by the recruitment of a fantastic and much needed talent at centre back – Alin Condurache. He is in fact, already so good that I've decided to fast-track him to the first team to aid his development further. Another couple of decent prospect at AMR and DM and that's pretty much it.
A. Condurache / A. Nedelcu
Club Development
the incredible performance in this year's CL campaign saw the club get a big boost in reputation as well as a great increase in the financial department: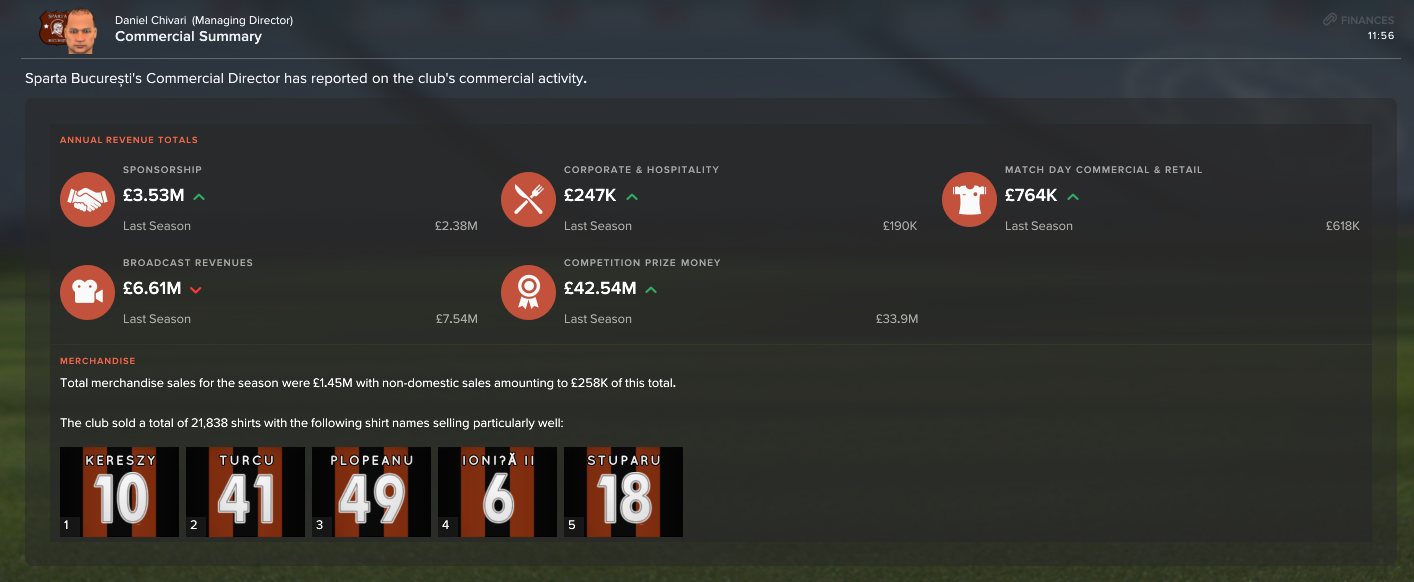 This journey has been one of the most insightful, challenging as well as rewarding experiences I have had while playing Football Manager. It has opened up a number of perspectives relating to the game as well as real-life football. I probably wouldn't have paid enough attention to my tactics or player development if I had the chance to sign whatever players I wanted…I wouldn't have been so careful with the personality of my players and the squad as a whole, I wouldn't have analysed the opposition before the big CL matches if I knew that I can build a squad of sweeping to the final in the next year anyway. The list could go on and on… Perhaps most importantly though, I believe that this journey has encouraged me to focus on the sporting side of football rather than trying to trick the match engine of the game, or any of its pre-programmed mechanics. I have started to see a lot more than I used to in real-life football matches, or even get a better understanding of the thought-process behind the strategy of different real football clubs. 
So yes, I recommend a youth-only save to anyone that looks to take as much as possible from FM, as well as anyone that's looking to broaden their knowledge of the beautiful game…
Thanks to everyone who kept me company throughout this story 🙂 It's been a pleasure transcending the natural boundaries of the game through our discussions and I hope you join me in my other projects. You can find me on twitter @LPQR_FM, or just leave a comment here and I will get back to you as quickly as possible 😉
Tracker
Career Progress Table
  

2016-2017 Liga II- 2nd(promoted)   
Quarter final(RC); Europe- N/A 
                             
2017-2018 Liga I- 13th(5th in relegation group-survival)         
6th round(RC)/8th final(RLC); Europe- N/A

2018-2019 Liga I- 13th(7th in relegation group-relegated)
6th round(RC)/Semi-final(RLC); Europe- N/A        
              
2019-2020 Liga II- 1st(promoted)
Semi-Final(RC)/8th final(RLC); Europe- N/A                                

2020-2021 Liga I- 11th(5th in relegation group-survival)
6th round(RC)/Final(RLC); Europe- N/A         

2021-2022 Liga I- 8th(5th in relegation group-survival)
7th round(RC)/Semi-final(RLC); Europe- N/A    
      
2022-2023 Liga I- 5th(4th in Champions Playoff- Euro Cup)
6th round(RC)/Semi-final(RLC); Europe- N/A        
 
2023-2024 Liga I- 2nd(Champions via Playoff)
6th Round(RC)/8th final(RLC); Europe- EL- Group Stage                     

2024-2025 Liga I- 4th(2nd in Champions Playoff- CL)
Semi-final(RC)/Semi-final(RLC); Europe- CL- Playoff/EL-first k.o.round              
 
2025-2026 Liga I- 5th(4th in Champions Playoff)
Final(RC)/Winners(RLC); Europe- EL- first k.o.round                  

2026-2027 Liga I- 1st(Champions via Playoff)
Winners(RC)/Winners(RLC); Europe- N/A                     

2027-2028 Liga I- 2nd(Champions via Playoff)
Winners(RC)/Semi-final(RLC); Europe- CL- Groups/EL-first k.o.round                      
 
2028-2029 Liga I- 3rd(Champions via Playoff)
Winners(RC)/Winners(RLC); Europe- CL- Group Stage                     
           
2029-2030 Liga I- 1st(Champions via Playoff)
Winners(RC)/Winners(RLC); Europe- 

CL- Semi-final

                     

2030-2031 Liga I- 1st(Champions via Playoff)
Winners(RC)/Winners(RLC); Europe- CL- Final(!)