Here we are. It's preseason time and we're set to play our first ever competitive match since the club was founded, just under a few months ago . Straight away, some really good news for the club as two inspiring figures of world-football join Sparta's backroom team.
With Nemanja Vidic as a defence coach and Massimo Ambrosini as an Assistant manager, the club have two former players that personify the gritty, physical approach to the game that is embedded in the club's foundations
The most encouraging part of our staff recruitment has been our capture of a wonder-HOYD for this level
Mr. Zamfir is a model professional with fantastic level of discipline and knowledge of Romanian football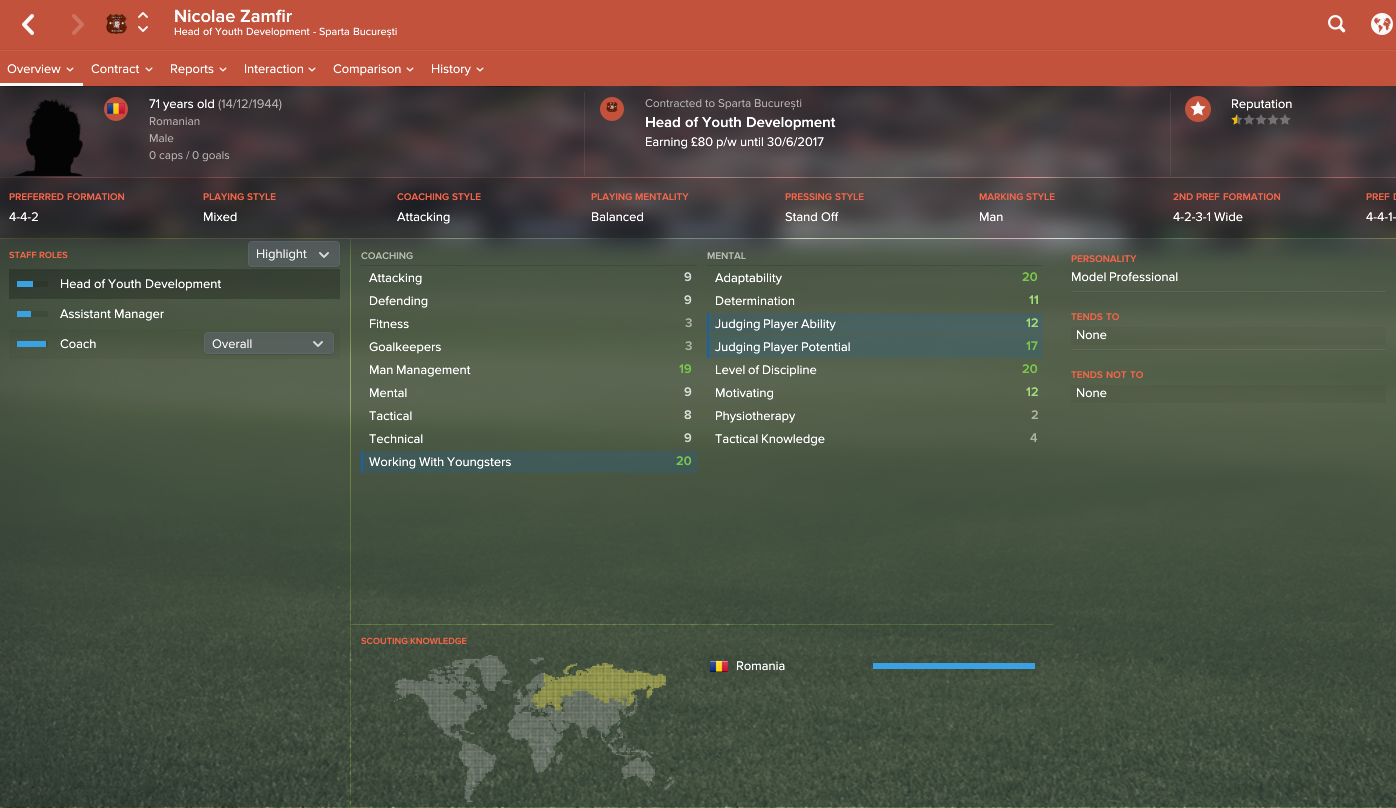 So far so good, we've managed to assemble an impressive coaching team, and this will no doubt reflect on the quality of training of our youngsters. Could do with some better physios, but this shall do for now
Media prediction for the 2016-17 season
we're tipped for relegation according to the bookies, although I hope we can push for a mid-table finish. I expect our performances to be better in the second half of the season, as our team is in urgent need of physical improvement and that's an area we should be much better in after 5 or so months of training and game-time
After a great summer which saw the club equip itself with a number of specialists that will provide invaluable support to the youngsters of this team, it's time to get down to business and iron out a system of play
Squad overview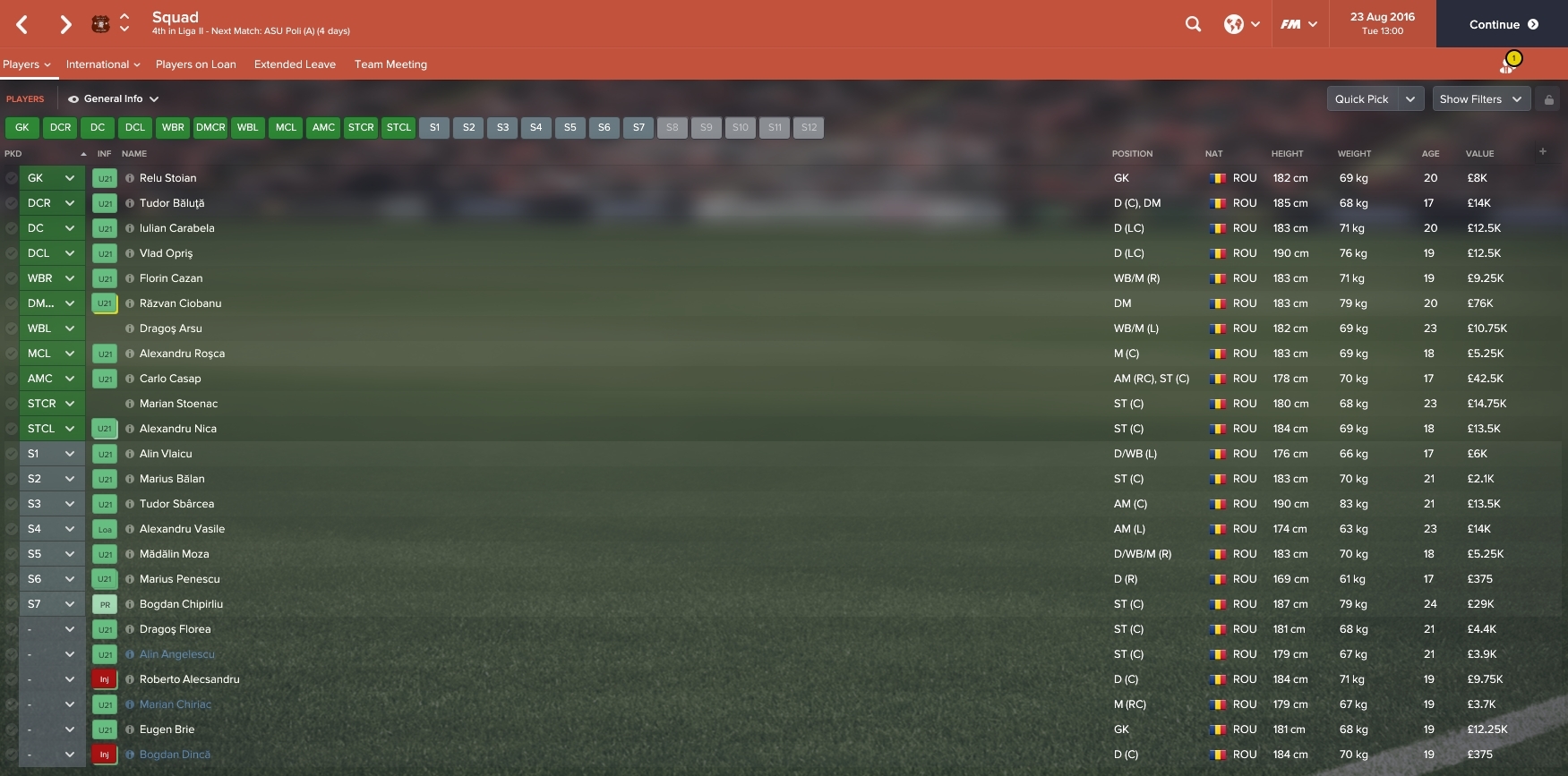 We get an interesting mix of talent in the first team, with 4 players of particular quality:
Bogdan Chipirliu                                                                                                             
Răzvan Ciobanu
Carlo Casap

These are the players I expect to build my team around, especially Casap. At 17 years of age he is our best player and brightest prospect and I'm really glad he's on a 2 year contract already, as he seems unwilling to sign a new contract and we'll probably see him snatched by some clubs in the first division once his contract expires.
after further analysis of the squad, it's quite amazing that our best traits as a team are the ones I've hoped for the most: passing, work rate and aggression
the physical attributes of the squad are understandably low, given the young average age, and I expect this to improve as the season goes by


so, all things considered, I've been experimenting with a few ideas in pre-season, which actually went really well:
and I've settled on something like this :
Mentality: Standard  /  Team Shape: Flexible
The idea of the system is to rely on a superior number of players in the defensive strata to compensate for our lack of physicality and recover the ball through player positioning and interceptions rather than one-to-one duels. The attacking side of the game revolves around Casap, our best player who will pull the strings from midfield, as well as getting involved to finish off moves in the final third. In possession, we have three midfielders forming a passing trident in midfield, with the wing-backs providing additional options out wide. Speaking of wing-backs, they are absolutely crucial to this system, as the team relies on them in every phase of the game: covering and marking the wide players when defending, providing passing options in midfield and stretching out play when in possession, and attacking the wings either through runs or crosses in the final third.
first few matches in the league went exceptionally well, and these results hand Avram the 'Manager of the month' award for August
after our wonder start to the season reality kicked in pretty violently and we had all the reasons to keep humming 'wake me up when September ends'. We picked ourselves up in the following months and ended the first half of the season in a respectable 10th position in the table.
Liga II
One thing I didn't know about is the incredibly long break Romanian teams in the second division get in the winter. We had 2 and a half months without a competitive match and keeping the squad fit and happy was quite challenging, especially with a number of players requesting to leave the club due to interest from higher divisions.
First match back after the break and we put in a good performance to bring a 1-0 home and place us 8th in the league
Cupa României
our performance in the cup has been nothing short of sensational so far, as we beat first division Gaz Metan to book our place in the Quarter Finals
2017 Youth intake

here we go, our first ever intake, and it looks like a pretty decent one! Ciocănaru seems great, that bravery, teamwork, work rate and personality are a perfect fit for our club. Apart from that, no apparent stars, however its really encouraging to see so many great personalities in the intake
Liviu Ciocănaru                                                                                                      

Emanuel Mărgărit

Club news
the nasty Hungarian left! Hurrah!


and we kick off on the right sort of vibes pretty much straight away!

heads held high and concentration up and let's see where abouts in the table we're finishing this year. One thing's certain… we're definitely not looking like relegation candidates anymore.