after a long break in the winter we come back to prove that my predictions about us being in much better condition in the second half of the season were right
 The only big downside is that demoralizing loss in the cup quarter final against Astra, however we did an amazing job in holding them off til the penalties. After all, these are the recent Romanian champions we're talking about!

this string of results has placed us second in the league with four matches to go…. woah, exciting times, I really didn't expect this at all!
Player spotlight
Nica has come out of nowhere to dethrone Stoenac from his first team spot as a striker. With 13 goals and 9 assists in 27 appearances, Alexandru is the revelation of the season so far

May 2017 – PROMOTION!
 we win 3 out of our four remaining matches to defy all the odds in a spectacular achievement in the club's first competitive season ever
League Table / Media Prediction at start of season
16th eh?
Squad
Key performers
that quote from TRFR sums up the emotions we've been having this season perfectly 🙂 those attendance figures need to improve in the future though….
some really good news on the personal front, although…quite a formality, I believe


great stuff, I like this new, Romanian board!
as the new season closes in, we have a nightmare dilemma to deal with: Carlo Casap
Carlo Casap is an 18 year old that was randomly added to the team at the start of the game from the bunch of the Romanian u19's that were released by their clubs in order to compensate for the lack of depth in the team that came from removing all the players at the club that were above 23 years of age. One year at the club in which he was, arguably, the team's best performer already and he's drawing interest from bigger teams around Europe, such as OGC Nice or Sheffield Wednesday. Casap has no intention to renew his contract, and with one year left on his current deal, a decision needs to be made revolving around the following issues:
– With no particularly bright prospects in the team, Casap is the only player that is of Liga I quality in the squad. He is at least 3 times better than any player in our current team
– Having him in the squad for one season could greatly help our survival chances, although, how would he perform if he's unhappy all the time?
– our club's entire value is currently 700k, and letting Casap go could bring in around double that amount of money in one transaction
– Could he change his mind and sign a new contract as the season unfolds?

huh… and to add to the personnel dilemmas, we have another tough decision to deal with:
Remember the wonder HOYD, Nicolae Zamfir?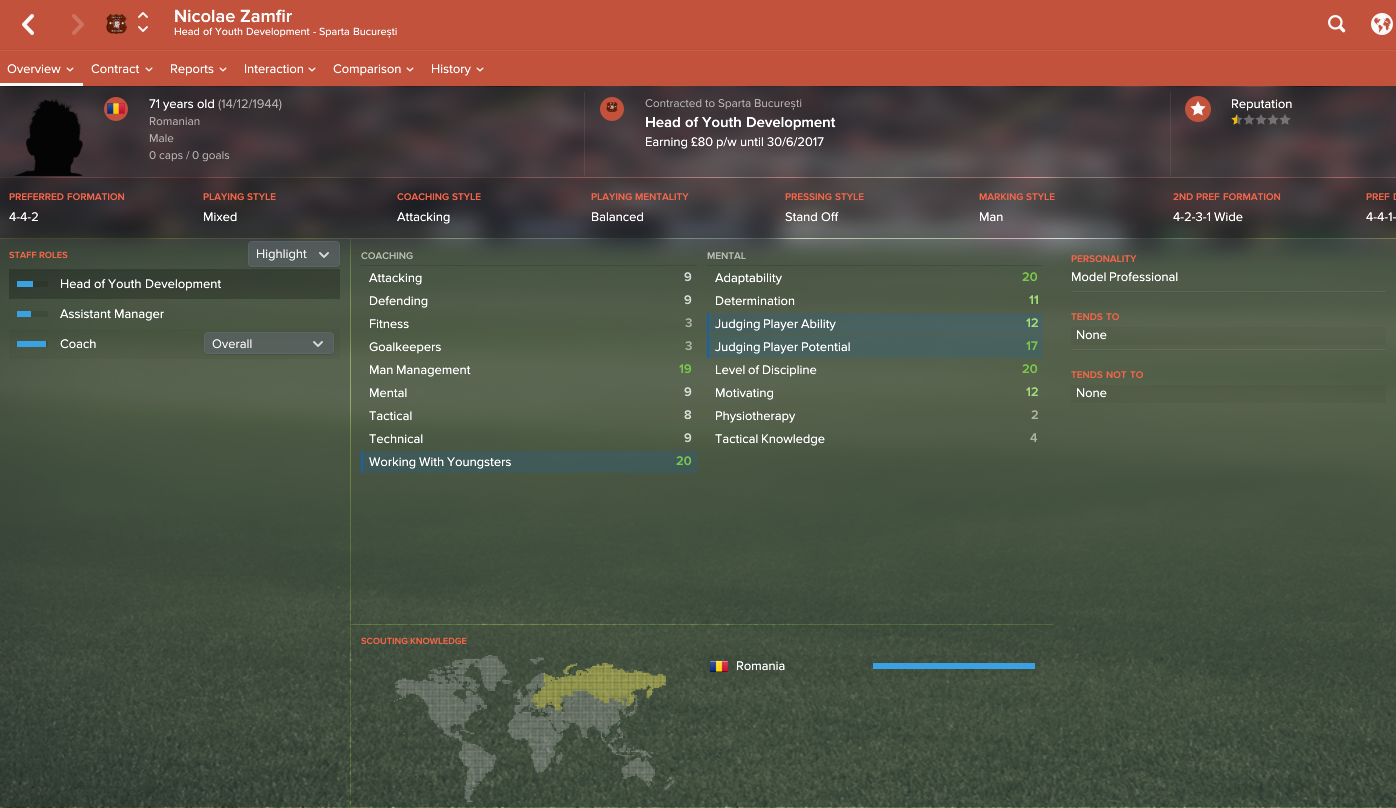 after just one season at the club and at 71 years of age he decided to retire…..
I'm considering assigning our DOF with youth recruitment responsibilities, as it's unlikely we'll find someone better suited for the job at this point

our performance in the second division has not gone unnoticed and we get a small boost in reputation

meanwhile, Romania drops 26 places in the rankings over the course of a year….

thankfully, Liga I only dropped one place
Overall, a fantastic season for us as we prove a remarkable point about our ambitions as a new club by gaining promotion to the first Romanian league. I don't have the words to describe how much worse we are than the current worst team in that division, although this should probably give you a pretty good picture of what I'm talking about:

We'll need to work our socks off next year, so I expect a good effort from the lads as well as, hopefully, some decent recruitment in the youth intake. As for my first-hand managerial responsibilities, the current system is working wonders and given that we'll most probably have the exact starting 11 next year I see no reason to change yet. Fingers crossed and let the survival wars begin!