2017-2018 pre-season
Media prediction – 14th
After the heroics of last season's promotion-winning campaign we are set to embark on the journey of our lives in the Liga I. Apart from a few changes in the backroom staff, we're pretty much the same team as we were last season, and that reflects in the odds we're given for this season. I'm not too sure of what to expect, but I hope we can graze a few points here and there to fight off relegation
With Casap confusing me whether he wants to stay or leave, I decide to tweak the tactic a bit to suit the team in both cases: with or without him on the pitch
Mentality: standard
Team shape: flexible
it might seem like an insignificant change, but moving the AP to the cm strata and changing him to a CM(A) has a few important effects:
– provides another number in midfield when defending
– shifts the focus of play around the team rather than relying on the AP to do all the magic
additionally, our DM is now instructed to hold position rather than going forward, as we're looking to protect our back 3/5 even further
friendlies went very well, although we chose some weak teams to build up morale
our first string of competitive matches was an absolute rollercoaster, as we blew away two 1-0 and 2-0 leads that ended up in a draw and a loss thanks to Ciobanu's amazing ability of getting red-carded twice in the space of 3 weeks
still, 6 points from 6 matches is not too bad actually, and the match against Pandurii saw us put in a really good performance which I hope we can build on
Player spotlight
Casap…. the numbers say it all
last season's intake star, Liviu Ciocănaru has been moved to the senior squad and played in all of our fixtures so far. At just 16 he's good enough to be a rotation option for the wing-back spot and some more game time should see him make the position his own
Squad
a few players that played on loan last season return to the club to add some depth, however they're nowhere near good enough even for our level
Team vs League average stats comparison
Derby Day#1
so, here we are, on the doorstep of the first Derby of Bucharest

aand we get the beating of our lives
pretty good performance until the 70th minute, as we held them to a 1-0 lead, breaking dangerously on the counter a few times, but then all hell broke loose…
Derby day#2
I won't be posting an update every time we play Dinamo or Steaua, but given these are the first two official derbies the club is involved in, maybe there's some merit to the spotlight

and guess what? The Lancers record their first ever derby win! 
not that slowly after all…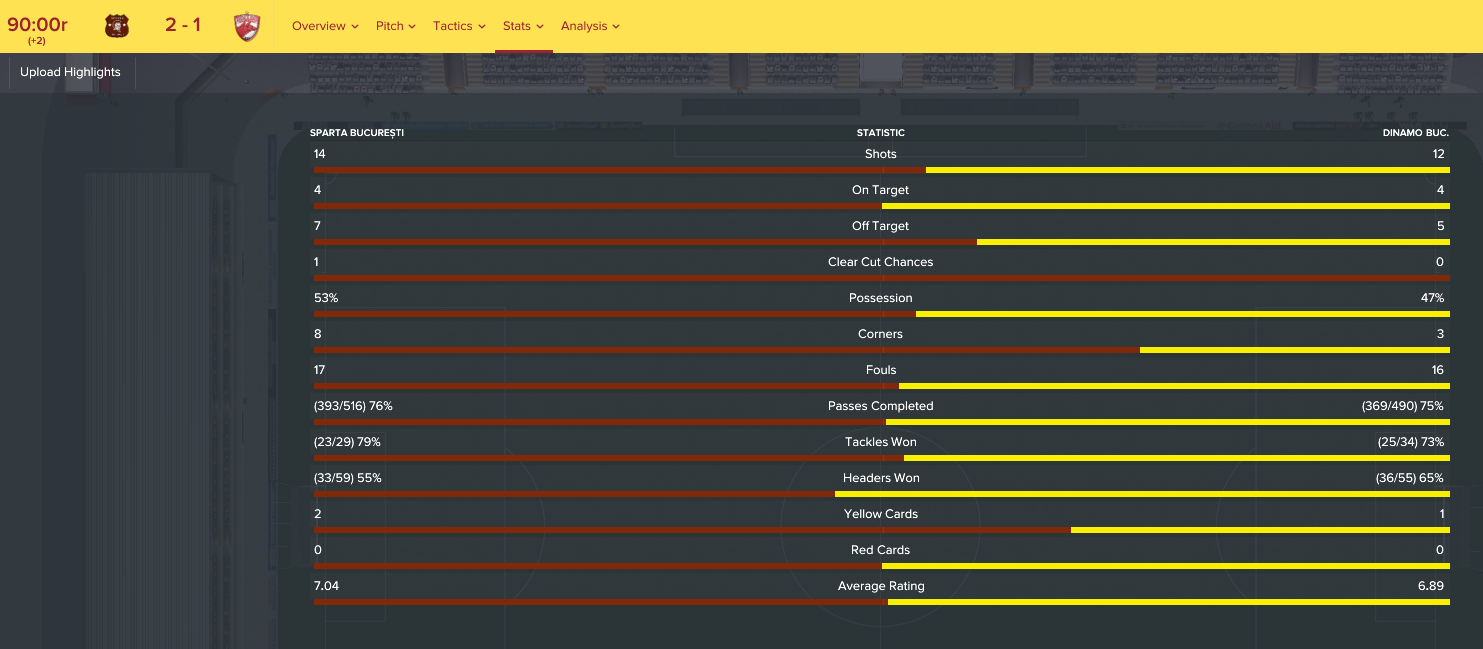 and by the way, did I already say I like this board? I really(!) like this board


this is fantastic news for us 🙂
December 2017 – Mid-season
The first half of the season comes to a close, and the (useless) 58 day mid-season break begins. We've had mixed results so far, but overall I'm very pleased with how the boys fared. Casap has been carrying the team forward and keeping him at the club even though his contract expires at the end of the season proved to be a wise decision.
4 points in September….
just one in a horrific October

and 10 points in a very, very sweet November

beating Dinamo and CFR in the space of a week must be the best performance the club has seen to date
League Table
quite amazing to have a relegation candidate in Dinamo Bucuresti, and the matches between Sparta and Dinamo gain double meaning as we both look to survive. On the other side of the table, Steaua have been smashing teams left and right and they're followed closely by a very impressive Viitorul side
Player Spotlight
Ciobanu is a player that came through Sparta's youth ranks and his development and performances this year have been absolutely sensational. With his contract expiring at the end of the season, and a stubbornness to enter any negotiations it looks like another potential key player is set to leave Sparta…
Quite amazing stuff for us so far, given the astronomic gap in quality between us and the rest of the teams in the league. Avoiding the drop will still be very complicated given the incredibly unpredictable nature of the playoffs, however I will keep some room for that possibility in my deep, dark Eastern European heart. Apart from that, a few young players are developing really well and I hope I can keep them at the club to set some foundations for the future. For now, though, great times for 'The Lancers' as this is a dream position to be in a year later from being labelled as second division relegation favorites. To add to that, the lottery of our lives is just a few months away as we prepare to enter the playoffs with a point to prove 🙂