March 2018 – Playoffs
a string of mixed results after the break concluded by a disappointing defeat at the hands of Botoșani hand us a 13th placed finish at the end of the regular division fixtures

League table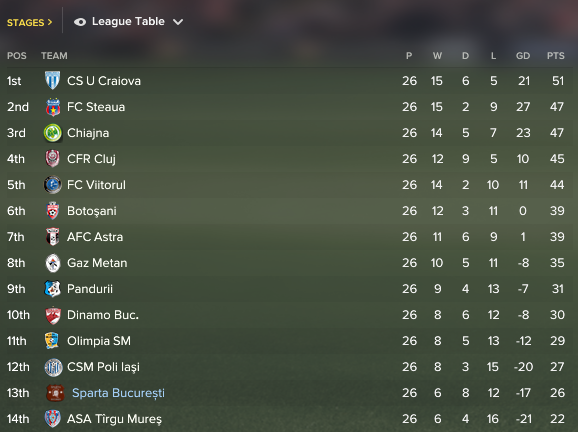 Now here comes the interesting part, the Romanian Liga I has a structure similar to the Ekstraklasa, in Poland, where after the 14 teams in the league play each other twice over the total of 26 matches, the league is split into two sections:
Champions playoff – top 6 teams / Relegation Group – bottom 8 teams
From here on, teams start with 50% of the points they accumulated over the course of the season and the results they obtain in the two groups will be the final result determining the clubs' continental qualification/title winning positions as well as relegation.
the Playoffs unfold between the 10th of March and the 3rd of June in which each club will play a total of 14 matches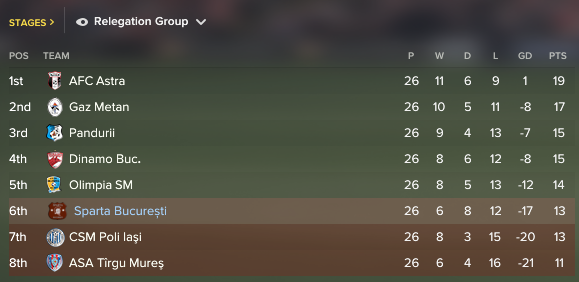 with some pretty strong teams in this years' relegation group we're going to have to play really well to avoid going down….
Youth intake

I have no words for this…. this is appaling! even for our facilities and standards this is ridiculous. The stars ratings can be confusing sometimes, so I'll give you some reasons for my rage:
If this is a a player with a current ability of 3 stars, you can imagine just how good even the best of these youngsters will get in their peak

And when it comes to judging ability and potential I have a highly qualified member of staff in that area on whose opinion I can rely on. And by the way, I can only blame the quality of this year's intake on this very man and his ability of 'working with youngsters'. New HOYD on his way as soon as possible.

So…  here's the best player of this year's intake:
Flavius Latu

With no spare cash to waste on potential back-up players (at best) I have released ALL the youth candidates of this year. Absolute p***take