Season 18-19

very, very painful season… we only managed a few wins along the way, and our squad morale has been in constant mess as nearly every other player has been asking to leave the club… an encouraging performance in the Romanian League cup, which saw us reach the semi-final only to be beaten by rivals Dinamo is the only highlight of the season in terms of performances

League Table after playoffs
Awards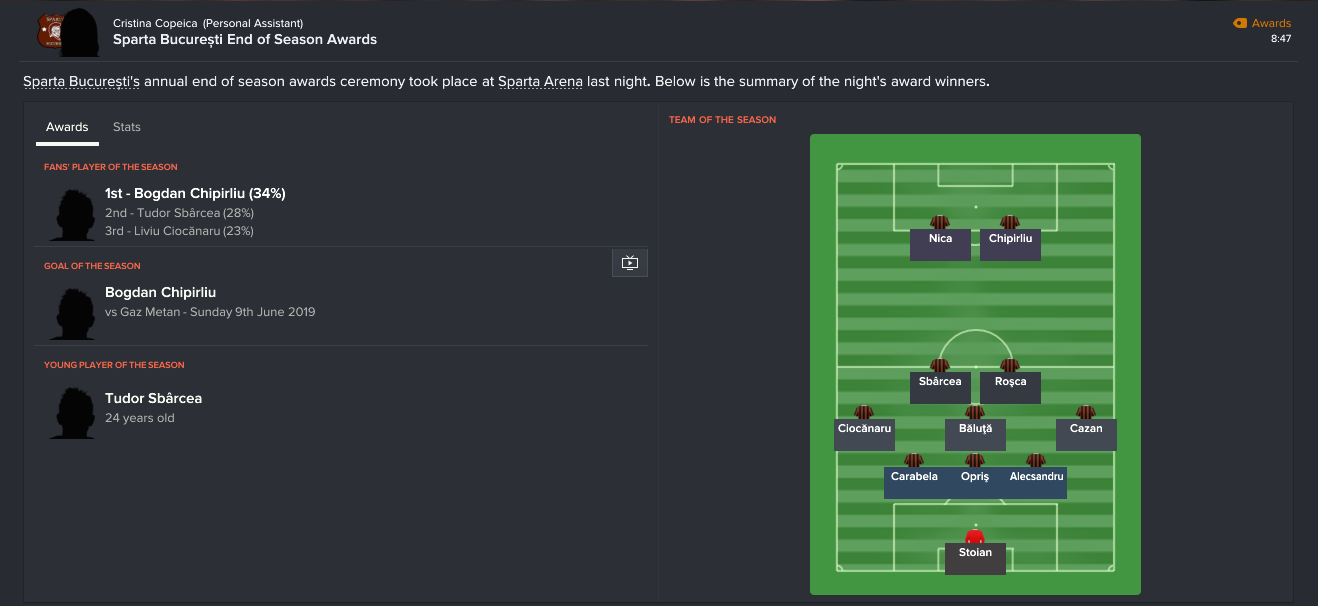 Key Players:
Bogdan Chipirliu  
 Liviu Ciocănaru
                  Tudor Băluță                 
Alexandru Nica
Ciocănaru and Chipirliu have both asked to leave, while Băluță has already agreed a transfer to Tîrgu Mureș at the end of the season… These three players are at least two heads above anyone else in the team with Nica following them in a close 4th in terms of quality. This means we're truly back to were we started from, only with worse players than we had initially and with better facilities, reputation and finances.
Thoughts or excuses?… huh 🙂
well, what can be said? our tremendous lack of quality has shown and if I have to take the blame for anything it would probably be the failure to keep the squad happy and focused throughout the season. Very challenging situation with key player, Chipirliu, our star left-back, Ciocănaru, and a few others constantly asking for a move away and disrupting team morale. The tactics have stayed pretty much the same as last year, with minor adjustments to help us be more efficient in defense. That didn't seem to account to much, either. Perhaps one of the major reasons for our downfall this season was our very static nature of play – the new, adjusted 352 lacked the mobility and variety that the previous, AMC-based system offered. The impact that Casap's departure had on us is truly significant in that sense, as there were no players left in the squad that were even half as good as he was in that position. Injuries have played a massive part in our downfall as well, as we constantly missed one or two players in matches we could have got a point in. That being said and as disappointing as relegation is, here are the positives that I can take from this:
Club developments
our lack of transfers and incredibly low wages meant the club has been increasingly improving its financial position over the last two years
Commercial review of 18/19 season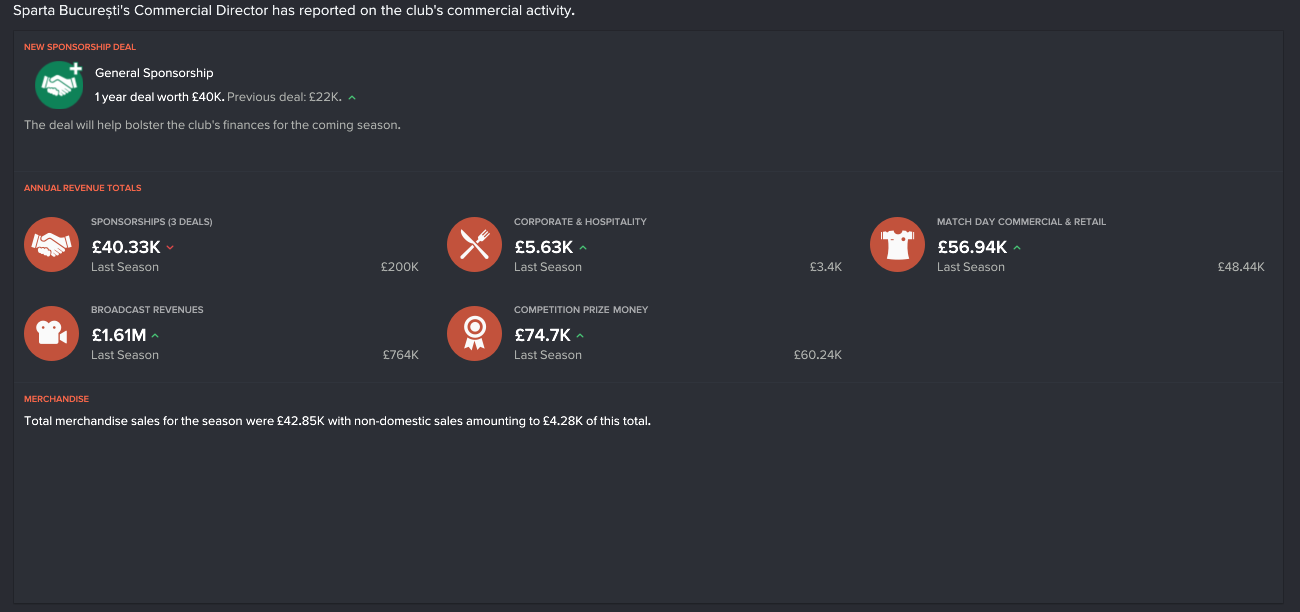 this meant the club has had the resources to invest in some key aspects of the club:



with youth facilities and recruitment having gone one level up already this season, we're looking really good on the facilities front
Youth Intake

great intake by our new, spanish HOYD as we get a bunch of great(?) prospects in a number of positions. Some decent personalities there, too. This could be crucial for the club development in the next year or two, as with half of the first team looking to leave the club, these guys look set to get some important game time in the second division next season. Ivan will take over from Băluță at the DM spot straight away, as the latter decided to leave on a free at the end of the season.
Alexandru Ivan

Sorin Ștefan

Overall, relegation is always a disappointment. But I'm hopeful the new generation as well as the improved infrastructure of the club can help us move forward from here and keep us growing. One can say I'm being overly optimistic, but that seems to be the medicine required to get you through times like these, so bring it on, Liga II 🙂
June 2019 – Career Progress
Tracker
Table 
                                                                        Career Progres Table

-------------------------------------------------------------------------------------------------------------------------------------------
                   League                                                          Cups                                     Europe
-------------------------------------------------------------------------------------------------------------------------------------------
              2016-2017 Liga II- 2nd(promoted)                                 Quarter final(RC)                               N/A

              2017-2018 Liga I- 13th(5th in relegation group-survival)         6th round(RC)/8th final(RLC)                    N/A

              2018-2019 Liga I- 13th(7th in relegation group-relegated)        6th round(RC)/Semi-final(RLC)                   N/A