Season 20/21
this final push from the boys made us finish 5th in the relegation group, thus avoiding relegation with a last gasp effort yet again… phew…

Overall season performance
Media prediction

 Competitions
apart from the delightful fight against relegation, we've put in a fantastic performance in the Romanian League Cup as well this year. We reached the final of the competition only to be knocked out by Universitatea Craiova… it will hurt, of course, as we were leading 1-0 for the first 60 minutes only to let it go stupidly in extra time…. still, a great run and that should help our reputation domestically
End of season league table
Viitorul do it again huh 🙂
Rivalry status
this year saw us put in some great performances against our two fierce rivals, particularly Dinamo, against which we haven't lost once in 5 matches. Steaua is still the one to beat as they are a much stronger team overall, but as the years roll by we increasingly start looking less like outsiders and more like serious opponents in the Derbies of Bucharest

Awards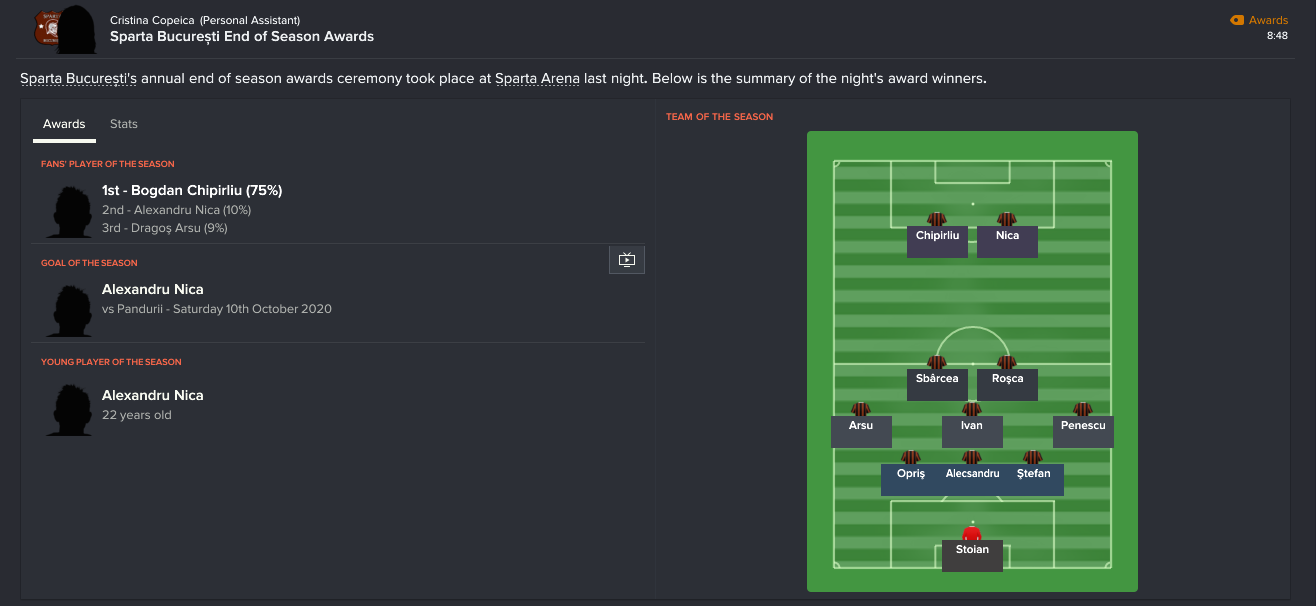 Squad
Key players
Bogdan Chipirliu                                                                                                         
Alexandru Nica 
Alexandru Ivan                                                                                                              
Sorin Ștefan
Some great performances by these four over the last year. Chipirliu and Nica formed our main striking partnership for most of the season and have bailed us out on numerous occasions with some wonder-strikes that left my jaw on the floor. Really a shame that Chipirliu seems to be very injury prone as he only played 20 matches this season. Ivan and Ștefan are part of the new generation that is slowly pushing the club onto the next level. Some great performances from these two, especially from Ivan, who was helped a lot in his outings by his great physique for his age. Really hope he can improve his technical side of the game so that he can be our main creative outlet from the back.
Youth prospects
Daniel Ureche                                                                                                                  
Răzvan Pavel 
Toader Vlad                                                                                                                 
Alecsandru Buștei 
Ureche and Pavel have been important rotation players for the striker and right wing back spots and both put in some decent outings for their ability. Vlad was our main CM(A) this season and averaged an impressive 6.89 in the 29 appearances he made this year. Buștei mainly played for the U19s, however he progresses so fast that he might push our main GK, Relu Stoian out of his starting role soon if he keeps going like that.
Youth Intake

probably the best intake we've had so far, in terms of both, depth and quality. Our spanish HOYD is working wonders so far, as his unearthing of Bogdan Andone has left me speechless….Additionally, Tiberiu Vlădilă looks quality and Ivan and Abăluță aren't too bad either. 
Bogdan Andone                                                                                          

Tiberiu Vlădilă

Andone was so good that he was instantly our best defender at the club. Promoted to the first team immediately, he managed to put in 16 appearances of decent quality from March to the end of the season.
U19 squad
Other developments
wonderful news… absolutely wonderful

Our profile is constantly increasing as we continue to have training camps overseas and this is reflected in the commercial activity of the club 

Finances
A stable picture overall – a very good feat in avoiding relegation and an increasing profile due to our good performances in the cups as well coupled with the great intake of this year. All of them reasons to be encouraged and look forward to improvements in the future.
June 2021 – Career Progress
Tracker