a fantastic season in the Liga II means we defy all the odds yet again to win back promotion to the Liga I.
The first placed finish also ensures the club collects its first winners' medal in their 4 year history. Coupled with a great run in the Romanian Cup and some fantastic performances from players that came through the youth ranks last year, this is a very encouraging bounce-back scenario from the bitterness of last season.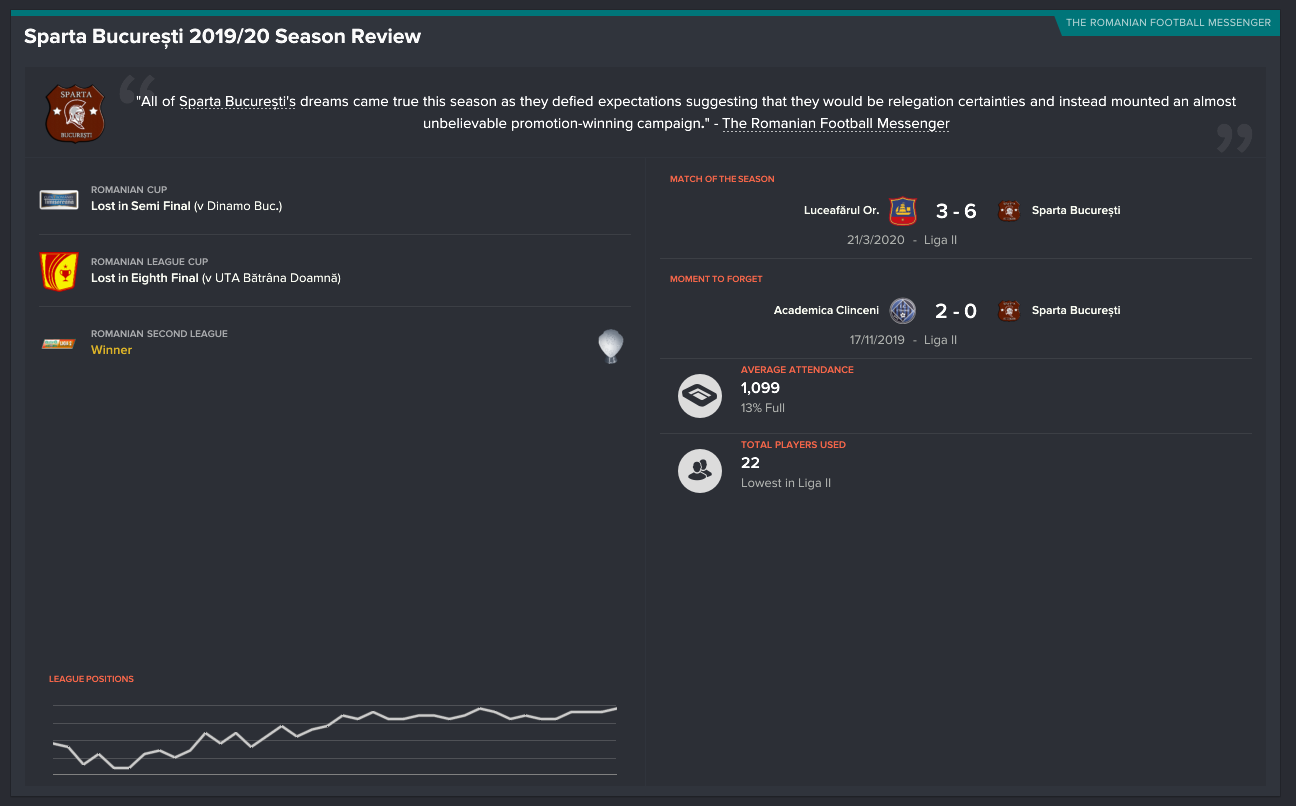 we started the season quite badly and had a few runs of bad form that made me seriously question our chances of even staying up in the Liga II. The boys have completely turned things around in the second half of the season and we pulled of an extraordinary achievement in winning the league.
                                                    League Table                                       Media Prediction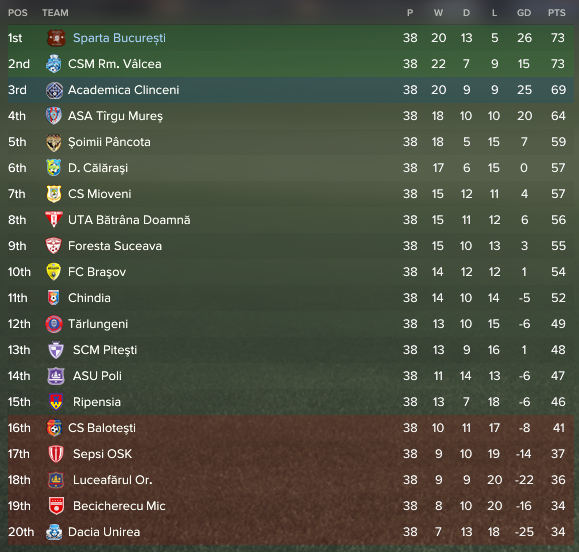 Key players
Alexandru Roșca                                                                                                       
Alexandru Nica
Bogdan Chipirliu                                                                                                        
 Liviu Ciocănaru
These four players were the undoubted foundation we relied on to bring quality to our performances. Chipirliu made a surprising decision to stay and renew his contract and even though his season was disrupted by injuries on numerous occasions, he still popped up to give us a point or three in decisive situations. Roșca is the creative force of the team as he is our best passer by miles and his presence in midfield has been crucial to our ability to create chances. Nica is cementing his status as a club icon by this point. With 16 goals to his name this season he has been our main force in attack as well as Sparta's record appearance holder, and his development in training is encouraging to say the least. Ciocănaru is making his inevitable departure even harder to take as he had a wonder season as our left wing back: 3 goals and 8 assists is no small feat for a player that hasn't reached his twenties yet. He'll be terribly missed…
Exciting youth prospects
Sorin Ștefan                                                                                                       
Alexandru Ivan
Daniel Ureche
The first two were given starting spots in our first 11 as we were weakened by departures and lack of depth at the start of the season. The two have made a total of 62 appearances between them in their first year as senior squad members and the performances they've put in have been encouraging to say the least. Ureche has been used more as a rotation option for the Chipirliu-Nica partnership and he chipped in with a few vital goals for us in some crucial moments. 8 goas in 18 appearances is not so bad for a 17 year old so we'll see where his development takes him
Youth Intake
Another great intake by our Spanish HOYD, who interestingly, has a preference to sign local players in his attribute list. Good depth all-round in this year's intake and we get some much needed prospects in defense and midfield. Pavel is the main reason to get excited about this intake as he already has the ability to be a rotation option for us at right wing-back and some game time should see him improve faster as well.
Răzvan Pavel                                                                                                        
Marian Solomon
Squad at end of season
Club development issues
The good form we've had this season is rewarded by a new sponsorship deal as well as increased performances in our overall commercial activity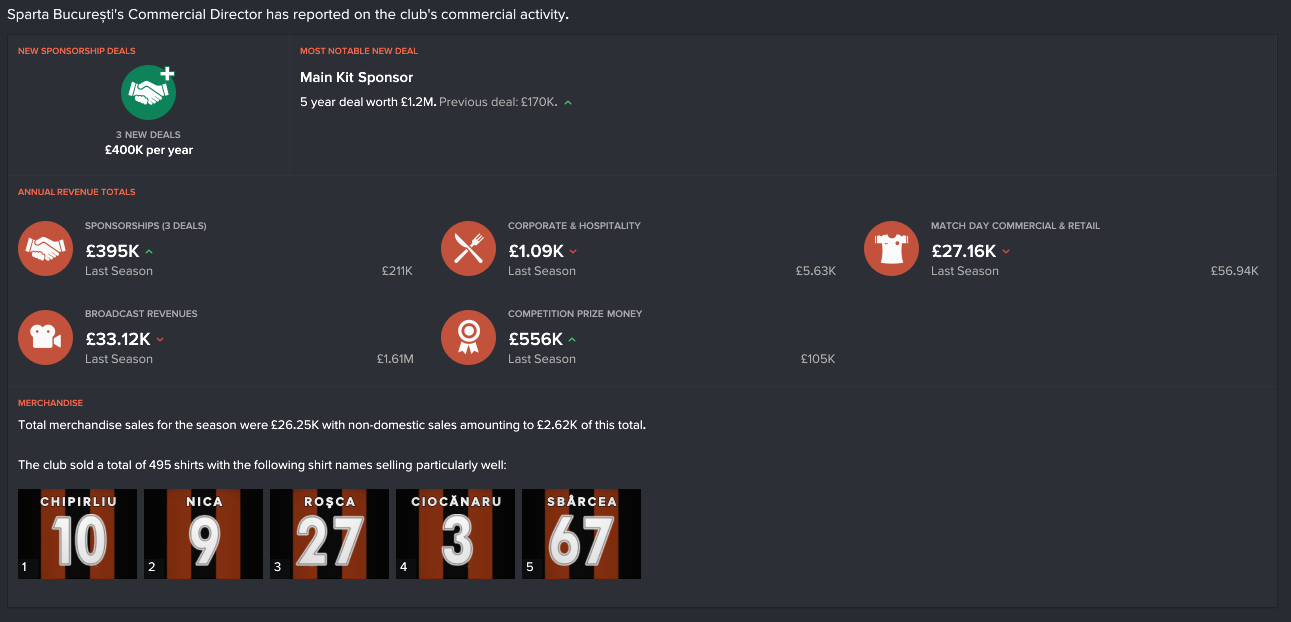 Despite featuring in the Liga II, we start the new season with a very healthy financial balance and this should be further increased by the TV money we'll get for this season and 'hopefully' some improved attendance figures
I made use of this to immediately ask for club improvements at the end of the season and this is a very good way to start

June 2020 – Career progress
                                                                    Career Progres Table

-------------------------------------------------------------------------------------------------------------------------------------------
                   League                                                          Cups                                     Europe
-------------------------------------------------------------------------------------------------------------------------------------------
              2016-2017 Liga II- 2nd(promoted)                                 Quarter final(RC)                               N/A

              2017-2018 Liga I- 13th(5th in relegation group-survival)         6th round(RC)/8th final(RLC)                    N/A

              2018-2019 Liga I- 13th(7th in relegation group-relegated)        6th round(RC)/Semi-final(RLC)                   N/A
              
              2019-2020 Liga II- 1st(promoted)                                 Semi-Final(RC)/8th final(RLC)                   N/A
Tracker
July 2020 – European Championship
while we're getting our team ready for the new season, Romania has a dream run in the Euros, beating the likes of Turkey, England and Italy to reach the semi-final of the competition. Croatia wasn't the toughest opponent to have and that loss will sting for sure, but still a fantastic performance overall