absolutely delighted! this is as mental as it was unexpected: with 4 matches to go in the playoffs and still in a distant 5th, we pull off the run of our lives to surpass Craiova and cement a sensational achievement for a club tipped for relegation at the start of the season

Playoff table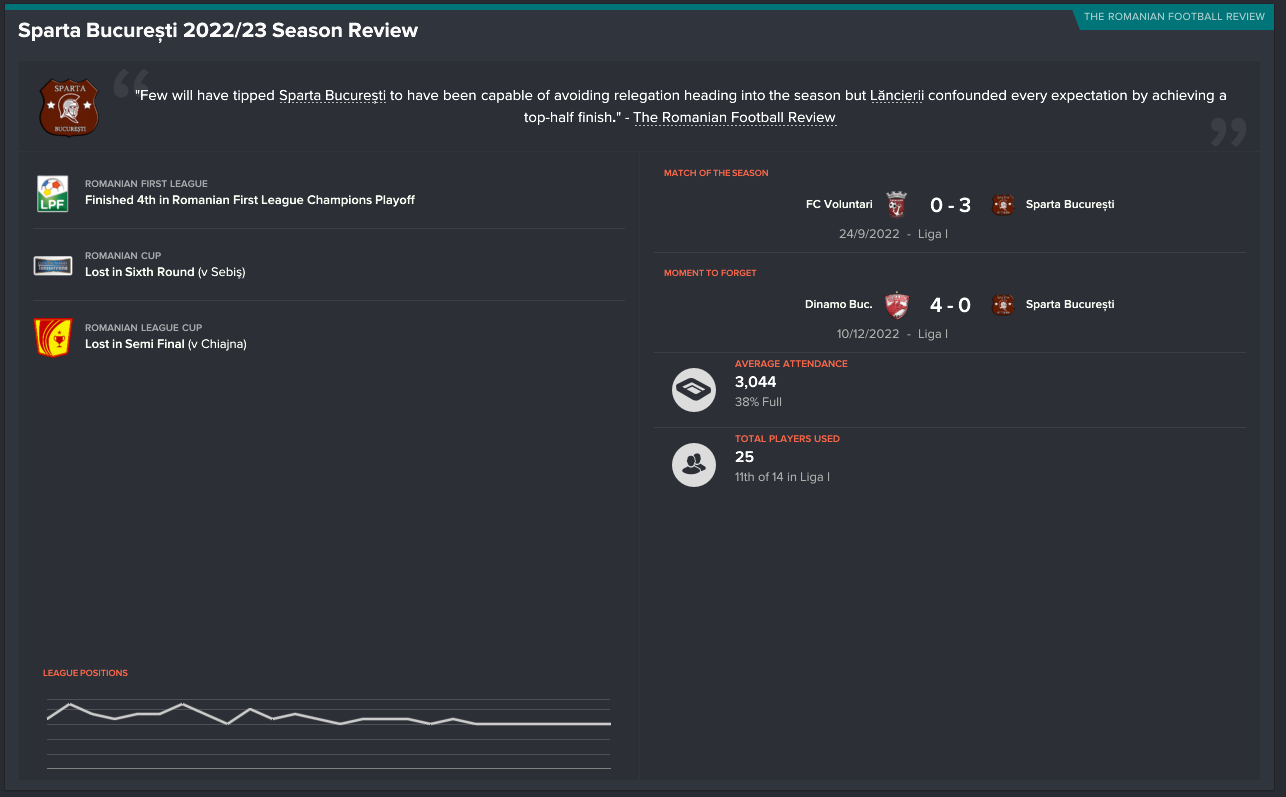 Awards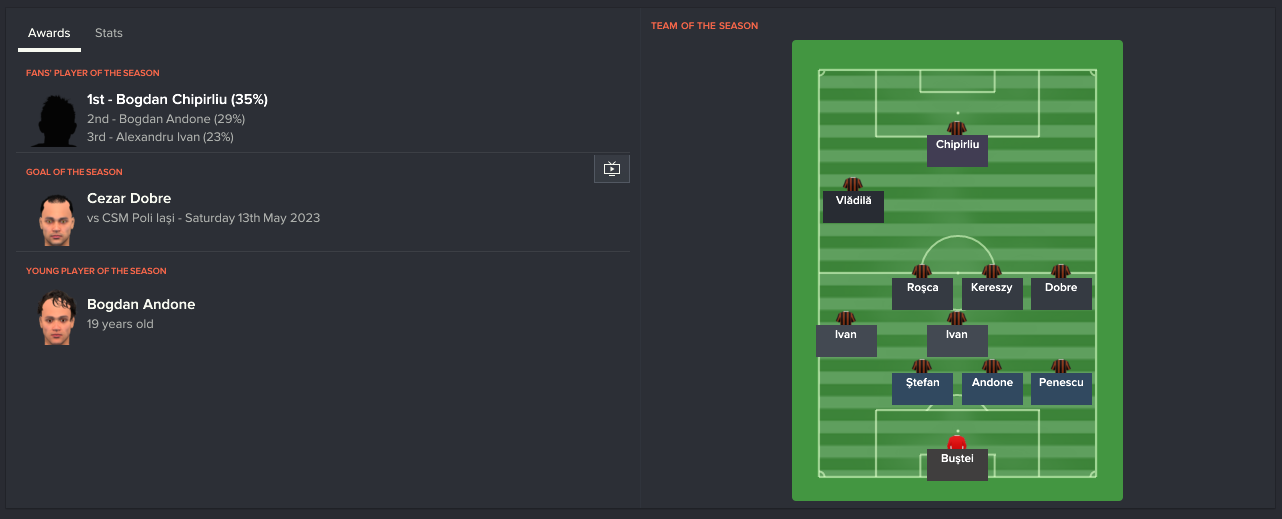 Key players
Alexandru Ivan                                                                                 

Ciprian Kereszy

Bogdan Andone                                                                                       

Cezar Dobre

A fantastic season for all four of them. Kereszy is undoubtedly the man of the hour after he put three MOTM performances in our last 4 matches to ensure we cement continental football for next season. A potential star player of this team, both him and Dobre have vindicated the decision to give the new generation playing time by hugely impressing in their first senior year through both: performances and development. You can check the previous post to see their stats and ratings just under 10 months ago. Ivan and Andone are slightly more experienced ones and they were the guarantee for our defensive stability for the entire duration of the season. Special mention has to go to Ivan, who has hugely impressed in his first year as a DLP.
Notable Performers
Bogdan Chipirliu                                                                                                   

Tiberiu Vlădilă  

Alexandru Nica                                                                                                       

Sorin Ștefan

Captain and club legend, Chipirliu had another strong season for us and, funnily, registered exactly the same number of goals and assists as Nica. The iconic striking partnership was disbanded this year in favor of giving more play time to the youngsters, however they rotated very well for the single striking spot and put in some great performances. Vlădilă is yet another fresh young face in the squad who was given a starting spot this year and he was really impressive in his initial run at AP(A) before a series of injuries thwarted his development. Still, with 34 appearances and some good overall development he looks like another future star player if keeps going like this. Sorin was Andone's main partner at the back for the entirety of the season and I must say, he really made the step up this season. His physical improvement helped us a lot in the aerial department and overall, he's still got room for improvement at just 20 y/o.
New generation development*
start of season                                                                                                                  
end of season
Squad Overview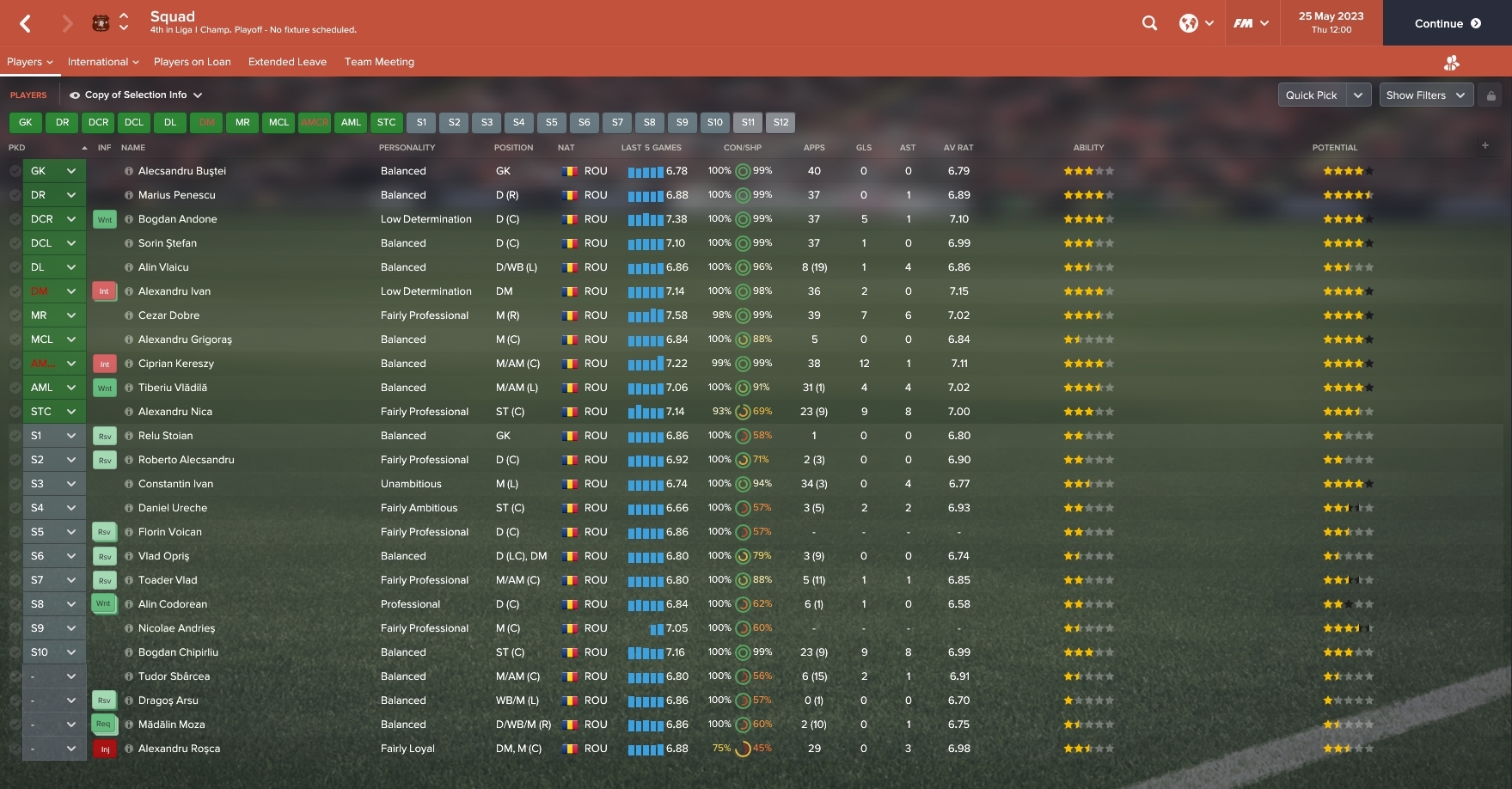 a couple of professional and balanced players make their way into the squad this year to help us with the overall personality of the team. Really hope Ivan and Andone can improve their determination as a result of that.
Youth Intake

another great intake! Really really encouraging personalities there compared to what we got the last few years. Grigoraș looks really good and is exactly what we needed the most at this point – a good, versatile central midfielder with decent physique and reliable technical ability. That natural fitness is a jaw-dropper as well. Vintilă looks quality as well, albeit I think he will be retrained to DM due to his lack of pace and natural fitness.
Alexandru Grigoraș                                                                                             

Cătălin Vintilă 

Another encouraging issue is the much increased overall quality of the mental attributes the youth candidates have this season. We get a few players with some impressive attributes there, and given the overall low quality of the squad in that department this makes me really, really happy. Take a player like Sergiu Chiric, for example:
while his PA is just about decent, he embodies the type of player I want in my squad: determined, brave and a team-player

these are the 4 key mental stats I need for my system and here are the top 15 players in the u19s that excel in these departments:

Top PA players in the U19 and general mental stat distribution
Other developments
all good and well, but…8 months? 
slightly disappointing figures here, mainly due to a decrease in attendance figures, which to be fair I find quite ridiculously inexplicable. This was by far our best season ever and we played some attractive football, too, so not sure what these fans want, but we need more of them to attend!

Tracker
Summary
A fantastic season for us in all departments, particularly youth development and performances. Europe will be incredibly tough for us, but hey, we've made it this far as underdogs, so we'll just keep biting and barking and see how far we can go. If anything else, this could be our chance to make a big step up in reputation and finances, so plenty to get excited about for next season