Well, it's been a while since my last foray into tactical experiments. After 18 seasons of twisting and turning my tactical approach with Sparta Bucharest, I've taken a little bit of a different route for the latest chapter. With less than a subtle reference to the title, I've taken inspiration from Maximilliano Allegri's tactical revolution at Juventus this year.
Having the likes of Cuadrado, Dybala, Higuain and Mandzukic, Allegri realized he is sacrificing from the squad's overall quality by dropping at least one of them on the bench, either that being through a 4-3-3 or a classic 3-5-2. One might wonder why is Mandzukic in the same line with the other three, flairy, technical attackers. Probably because his style of play and the qualities he has make him a more efficient contributor to the team than the other three much more often that one would think. The prototype of a defensive forward, Mandzukic's workrate and stamina make him an incredible asset for a team that plays in a more fluid style – he offers almost equal defensive and attacking output and basically ensures another man in either defense or attack.
The other player that had qualities exceeding the standard format of the role was Cuadrado – one would argue a classic winger with plenty of trickery and pace about him, Allegri saw in him other,  complementing, qualities that could mean the role Cuadrado would have in Juve's system could be slightly altered in order to make use of these abilities. Apart from being an excellent winger, Juan is also a very skilled passer of the ball, a good team-player and displays excellent work-rate and a reasonable tactical understanding of the game.
So, what did Allegri do? He re-invented the defensive forward role (Mandzukic) as well as the central winger role (Cuadrado) by employing the following system: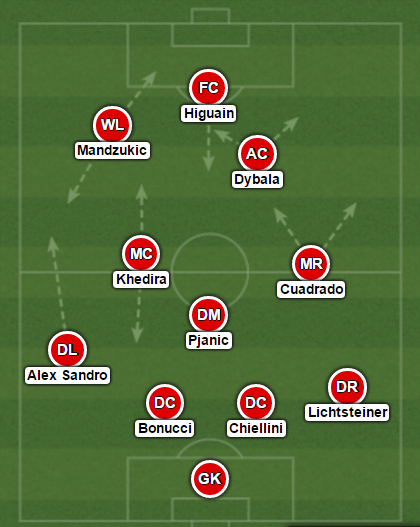 I remember having a bit of a rant at someone in the Italian media over twitter when they called this a 4-2-3-1, as this truly undermines Allegri's tactical genius here: He identified an opportunity to play a very complex system using specific traits in his players and it paid off to great extent. Mandzukic's workrate meant he would drop deep to the LM position when the team is defending, ensuring a 4-4-1-1 shape in defense. Cuadrado and Dybala would exploit the right half-space by switching positions with each other and alternating runs wide/inside. The system also allows Alex Sandro, the best wing-back in the team, to bomb forward regularly and be positioned even higher up than Cuadrado in most situations. All in all, a system that exploits the best of player's qualities and ensures 5 players in attack covering the entire width of the pitch plus two supporting midfielders: Khedira (an occasional runner) and Pjanic (the regista).
So, back to my eternal obsession with the formation cliche: is it a 4-2-3-1? a 4-3-3? a 4-4-1-1? Probably neither or all of them in different situations and moments of play. Why is it effective? Because it is heavily based on the players' specific qualities and employs movement and responsibility distribution that would only help those. The second reason why it is successful is because it allows for a very high number of ways to manipulate space and because the players doing it are highly intelligent off the ball and have very good passing & technique.
Inspired by this system, I've decided to implement something similar with Sparta, if not too similar: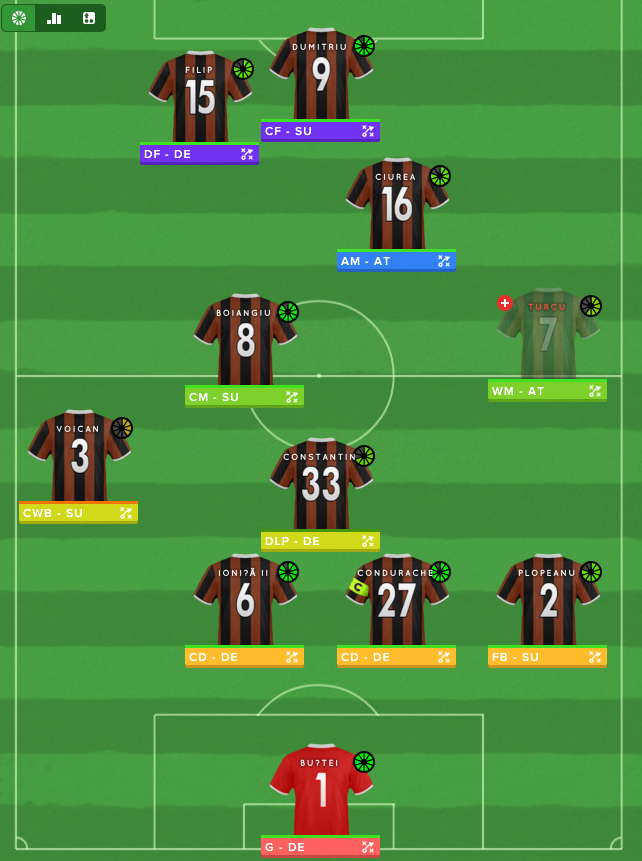 As mentioned before, there are three players key to this system: the left wingback, the right midfielder and the defensive forward. In the same succession, Voican, Turcu and Filip happen to be three out of the top five players we have in our squad. Furthermore, they display qualities that are perfect for what I'm looking for: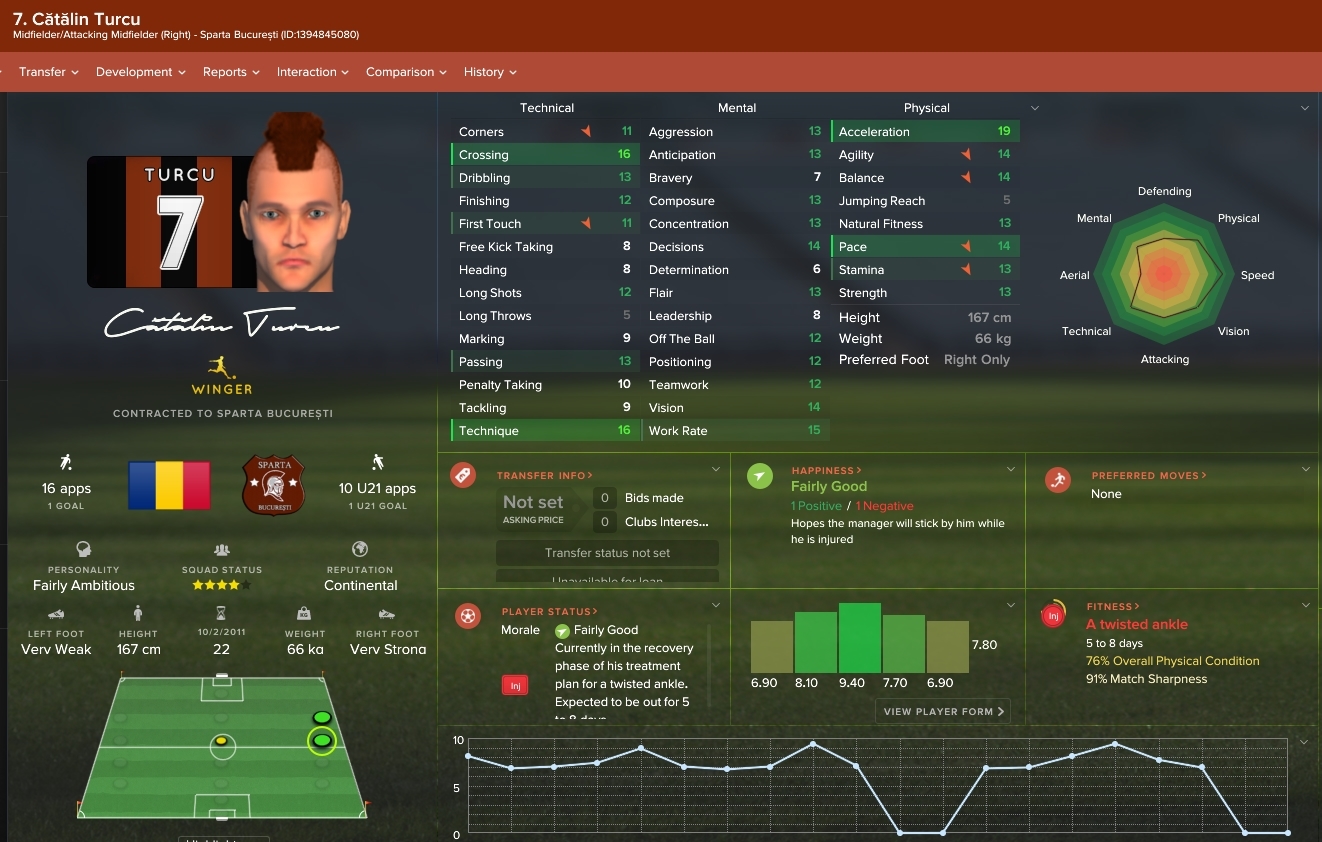 Turcu has excellent work-rate, good passing & technical skills and a strong physical presence to be playing a bit narrower in midfield. Explosive pace & crossing make him a deadly presence out wide too.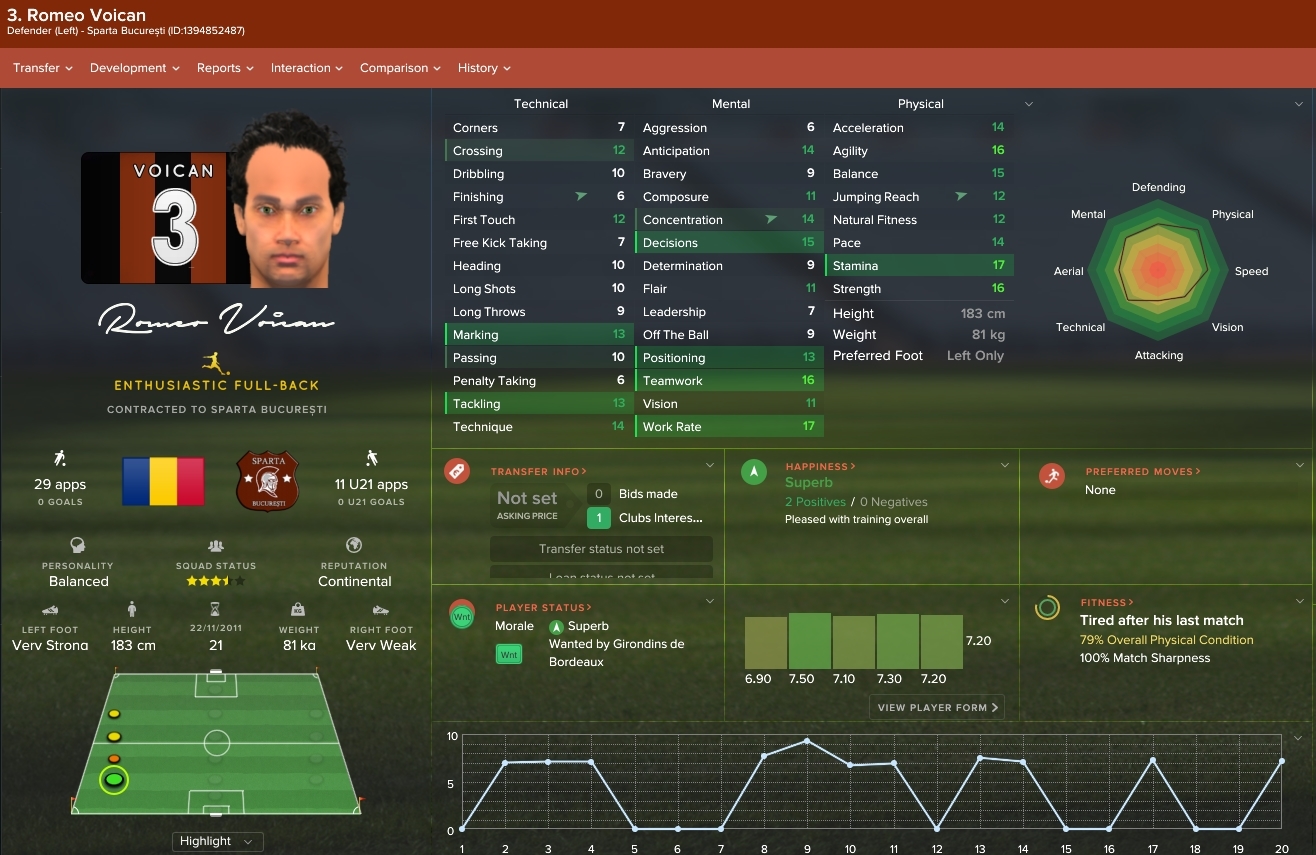 Voican displays fantastic work-rate, so important for a player covering the whole flank, as well as good speed and decent attacking ability for our level.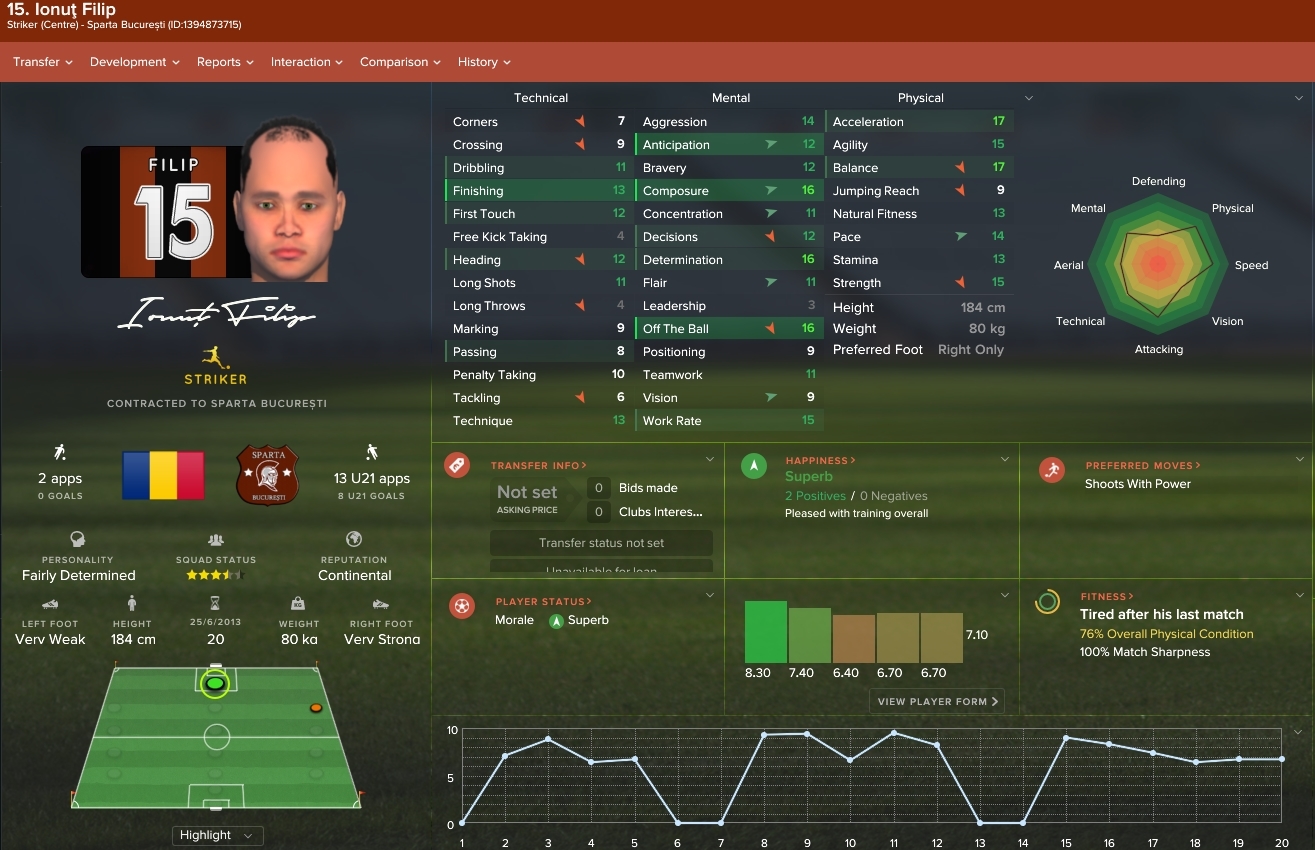 Filip – he's no Mandzukic, but he's probably the best defensive forward in our league and excels in just the departments I need: speed/balance, determination, work-rate as well as decent stamina.
The central winger – Mad Max style

These are the instructions I've used to influence our RM's movement. He will sit close to the other two CM's, even allowing the RB to overlap him occasionally. He will help in the battle for possession in midfield and even make occasional runs centrally/inside. The 'run wide with the ball' instruction ensures he still performs his 'hug the touchline' type of winger duties and relates back to the issue of manipulating space I mentioned earlier: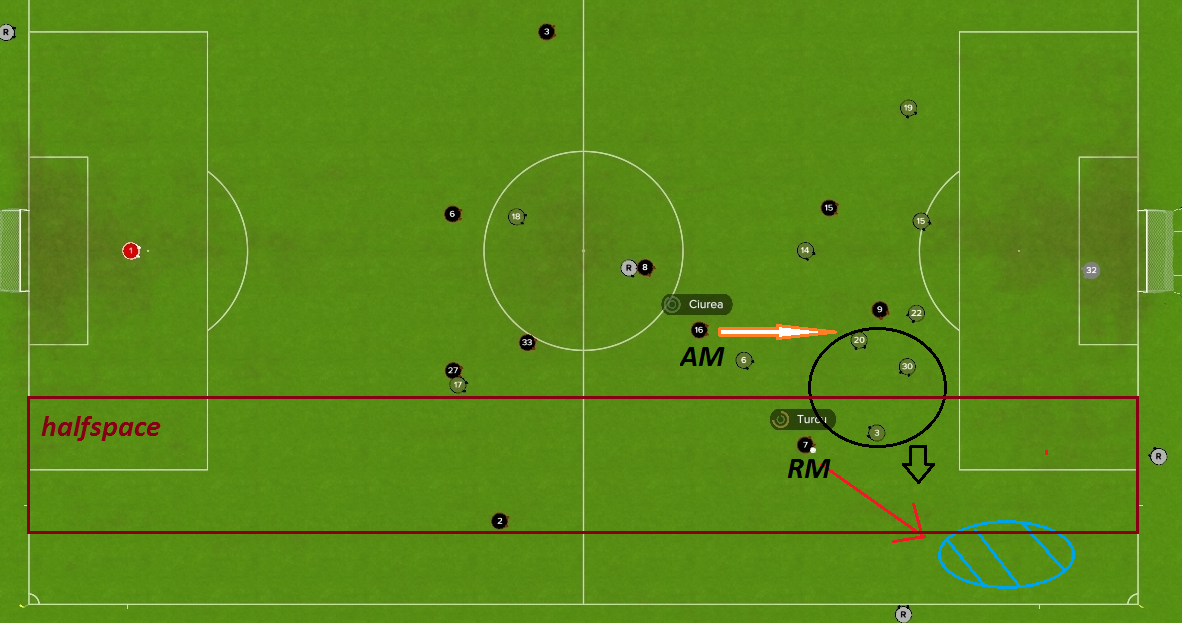 in this particular move, the RM looks to run wide after receiving a pass in central midfield

you can notice that by drifting wide from a central position, the RM pulls players out of position, which frees up space for the on-running AM
This is just one of the possible movements executed by this role. Sometimes he will start from wide positions and perform the exact opposite by cutting inside and allowing the AM to move out wide, thus exploiting the half space in a 'scissor style movement', cross-cutting opposition markers: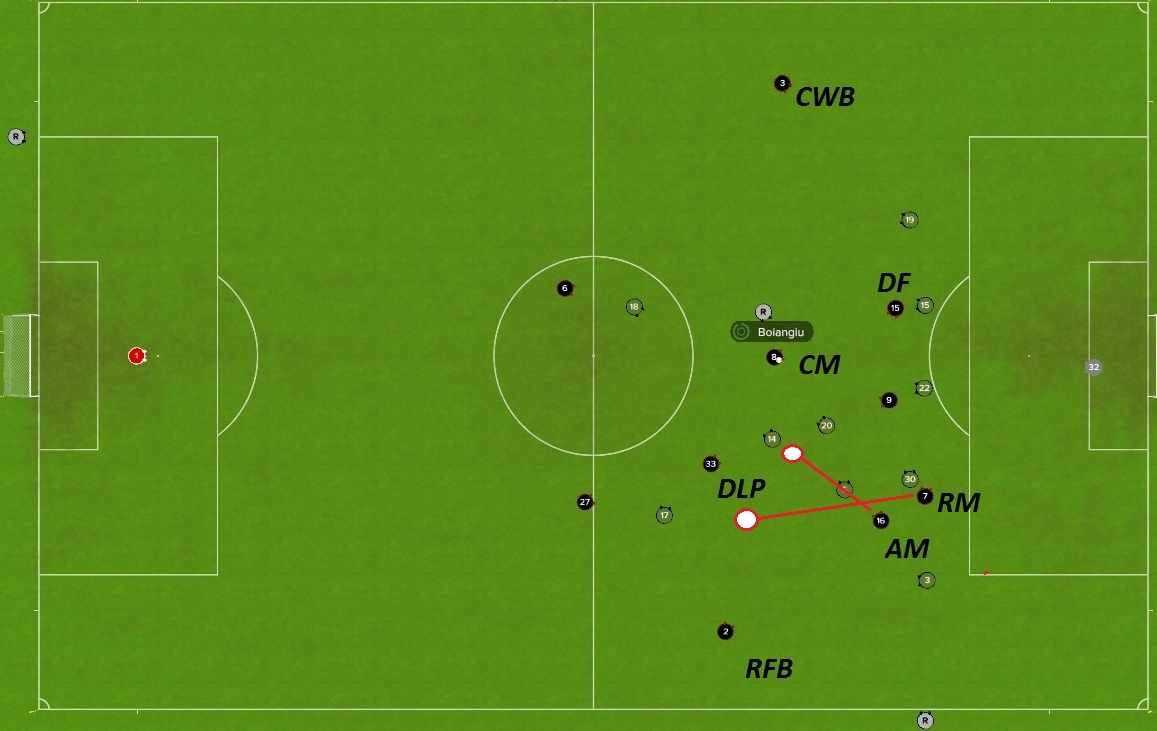 The white circles represent the initial starting positions of both players and the 'scissor-style' movement. In order to achieve this, the AM has been given the following instructions:

As I want the player to drift into pockets of space or out wide, the AM has been given the 'roam from position' and 'move into channels' instructions. Only by having these ticked he performs the above mentioned complementary interaction with the RM.
This is just one of the ways that this system creates and manipulates space. In order to get a better idea of the how's and why's of player roles and the type of movement that happens, here are the team instructions: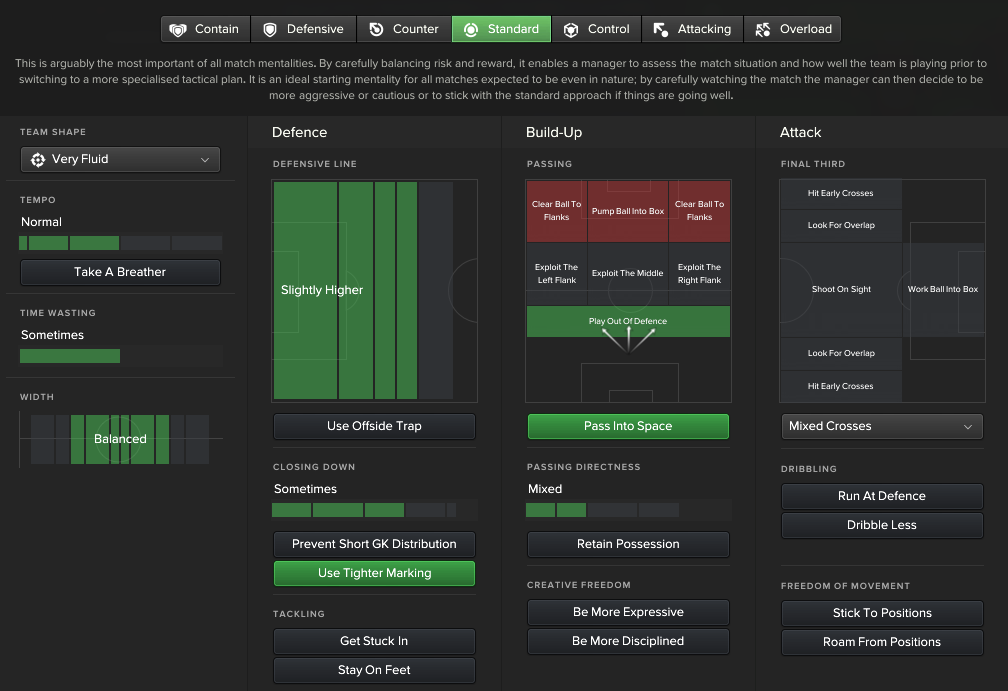 Compactness, fluidity of movement, high levels of creativity, creating and exploiting space – that is the equation of the 'generic style' the system uses as a foundation. This way, movement traps like the above are much more effective then, let's say, using a structured shape which would limit players' movement to specific, scripted scenarios.
Due to me wanting to describe this system in as much detail as possible, I will break down my analysis into a few parts in order to avoid word-overloads and keep it nice and simple. The next part will focus on the defensive forward and general system particularities. ( that's the plan for now, anyway 🙂 )
Hope you enjoyed this and make yourselves heard if you've got any thoughts or questions… in the moderate limits of reason, of course.