So, it has come to this. Considering the timing, possibly my final long-term career in this year's FM, after the Sparta & Artium saves have both reached a somewhat natural finish point. We managed to achieve complete domestic domination as well as reach the CL final with Sparta with a team full of academy products and we climbed our way out from the 6th tier of Italy all the way to a Europa League win with Artium, all done with Italian u21 signings only. Both incredibly enjoyable and challenging, both clubs created from scratch in their respected nations.
So, as a somewhat tangible pattern emerges, and as I quickly get bored with traditional FM saves, I've decided there's only one thing I can do to motivate me enough to play FM17 anymore: a youth challenge in my home town – Chisinau, the capital city of Republic of Moldova. And yes, with a created club 🙂
Here it is in all its' glory (view from the south city entrance, 'Portile Orasului')
Chișinău – population 700,000
Population – 3,5 Million
The story is one that reflects the dire situation of Moldovan football since, well…. forever. We've barely had a team reach the CL or the Europa league groups in our entire history and football is practically non-existent in a competitive, healthy format. Much like any other branch of the sports & culture infrastructure, football is completely disregarded and underfunded by the government. The biggest two clubs are Zimbru Chisinau and Sheriff Tiraspol. The latter is based in Transnistria, a semi-autonomous region to the east of the country and quickly reached a dominant position domestically after investment from seriously questionable figures (*coughs* ex-KGB bosses living in Tiraspol *coughs*)
Their only goal is reaping off the few million Euros the club gets every year for making it to the CL playoffs and their club policy is, well… all about the money again. In the last 10 years, Sheriff have brought in at least a few hundred U16 Brazilians in the hope they can have a new Ronaldinho with a Moldovan passport. Their entire team is made of naturalised foreigners and they have no interest in developing local talent. As for where the Moldovan NT and local leagues stand… well…
With that in mind, here comes Dorin Ciobanu – failed professional Moldovan player (thanks to a corrupt system and a greedy f*** agent) invests all his personal savings in creating new club in Chisinau, Republic of Moldova.  With the aim of running an honest, progressive football club and helping his home nation escape the obscurity of football, Dorin travels around Moldova for two months and convinces a few dozen local u21's to join him in his revolutionary project (players added via the editor with max PA of 100).
From now on, only Moldovan talent and only via the academy. From now on, Avangardistii (the avant-gard'ers) are the only hope of Moldovan football.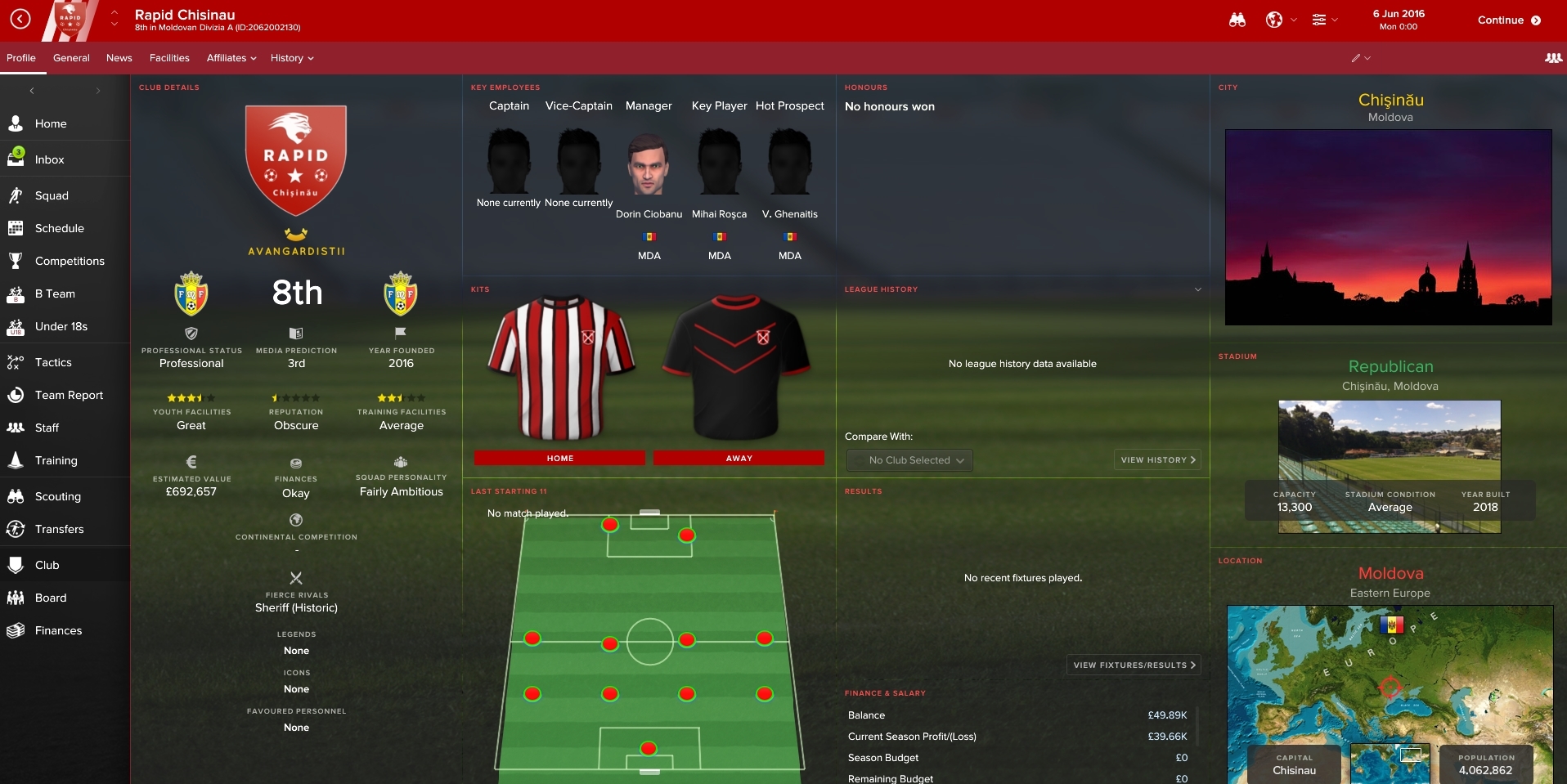 With the help of some rich friends in Italy (his mom and dad), Dorin invests about 4 million Euros into the club's youth & training facilities. The sum is added to the club's debt and will be gradually repaid once the club is profitable. We've also managed to rent the republican stadium for 10k a year, which is nice, considering that stadium has only been used a few times in its' history and a 13,000 capacity is the stuff dreams are made of. Poor pitch, poor conditions and corporate facilities, but hey… it's Moldova.
high quality seating at 'The Republican'
So here we are. We're all set to re-dignify our small and not-so-proud nation. Well, being the poorest country in Europe and with an average wage of just under 200 quid a month, we can at least try to give them something to be happy about, at least in football.